FRANKFURT, May 16, 2010 (AFP) - Germany captain Michael Ballack will not find out his World Cup fate until Monday because heavy swelling on his injured right ankle has delayed an MRI scan by 24 hours.
The 33-year-old Chelsea midfielder limped out of Saturday's FA Cup final win over Portsmouth after a heavy tackle, but an X-ray at Wembley Stadium revealed no broken bones.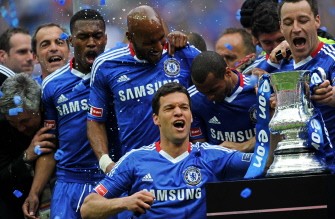 Michael Ballack (Foreground) celebrates with the FA Cup after beating Portsmouth 1-0 during the FA Cup Final football match at Wembley, in north London, on May 15, 2010. AFP PHOTO
With Germany set to face Australia in their opening World Cup game on June 13, Ballack was due to undergo a scan on Sunday, but heavy swelling has delayed the examination, the German Football Federation (DFB) said.
Once he knows the extent of his injury Ballack will phone Germany coach Joachim Loew at the pre-World Cup training camp in Sicily on Monday and a decision will be taken on Ballack's treatment.
The midfielder will either fly to Sicily or straight to Munich to be treated by the national team's doctor Hans-Wilhelm Mueller-Wohlfahrt.
"Until I know the results of the MRI scan, I am naturally concerned," said Ballack on Saturday after the FA Cup final.
With 98 caps and 42 goals to his name, Ballack will lead Germany's bid to win the World Cup for a fourth time and is crucial to Loew's plans.
"We had information from his adviser that he was X-rayed and nothing is broken," said Loew.
"But Michael wants to have the MRI scan to make sure the ligaments are all okay.
"He certainly has some pain and the ankle has very limited movement.
"Even if there is no ligament damage, it will need several days of rest.
"We need some clarity on the injury first and hope there is no serious ligament damage.
"Of course, we are all hoping the injury is not too serious."
Loew said while Ballack was understandably concerned about the injury, there is some relief that no bones are broken.
"Thank god we can rule out a serious injury like a fracture, that is important," said Loew.
"Michael is of course worried, but he felt some relief that the initial diagnosis showed there is no break."