JAKARTA, July 14, 2011 (AFP) - The newly-elected head of the Indonesian Football Association has sacked national team coach Alfred Riedl, an association spokesman said Wednesday.
"Yes it's official. The newly appointed head has fired Alfred Riedl today," PSSI spokesman Tubagus Adhi told AFP.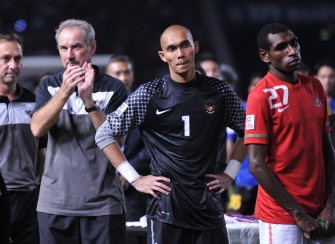 AFP file - This picture taken in Jakarta on December 29, 2010 shows Austrian Alfred Riedl (2L) standing next to Indonesian players (R) after the final match of the Suzuki Cup 2010 between Indonesia and Malaysia.
Djohar Arifin Husin, a former secretary-general of the National Sports Council, was elected over the weekend to head the organisation, which is also known as PSSI.
"It's the right of the chairman to fire the coach. Maybe he was seen as incapable of accelerating the improvement of the national team," he said of the Austrian national.
Riedl took the side to second place in Southeast Asia's AFF Suzuki Cup last December.
Adhi said PSSI has appointed the PSM Makassar coach Wilhelmus Rijsbergen to be the interim coach for the national team.
Indonesia will face Turkmenistan later this month in a World Cup qualification match.
PSSI, which is hoping to turn the page on a shambolic era in its history, was close to receiving sanctions from FIFA as it failed to elect its leaders in May.
Indonesia were runners-up to Malaysia in AFF Suzuki Cup last December, and were successful co-hosts of the 2007 Asian Cup, but the national team's record is poor.
Indonesia are 132nd in the FIFA rankings -- below Yemen and Kenya -- and have never made the World Cup finals.