SOLO, Indonesia, July 9, 2011 (AFP) - The Indonesian Football Association elected its new head on Saturday, avoiding a FIFA ban and ending a protracted crisis over how to organise the game in the country.
Djohar Arifin Husin, a former secretary-general of the National Sports Council, secured 61 of 99 votes in the second round of the election to get the chairman's post for the 2011-2015 term.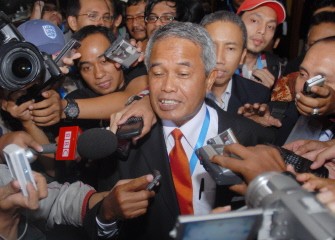 AFP - Djohar Arifin Husin (C) answer journalists questions after he was elected the new chairman of The Indonesian Football Association
The football association, also known as the PSSI, had failed to choose a chairman in a May 20 vote that descended into a bitter row between supporters of rival camps, forcing FIFA to call it off.
"God willing, we'll be holding competitions which are clean and properly-managed so the world will know we're worthy of attention," Husin told reporters after the election.
The first round saw 10 candidates vying for support in the election in Solo city, Central Java, which was guarded by around 1,600 police officers.
The PSSI is also expected to elect a new vice-chairman on Saturday.
Former army chief of staff George Toisutta and oil tycoon Arifin Panigoro were banned from contesting the vote for chairman, as was outgoing boss Nurdin Halid, who has been tainted by corruption.
In January, Panigoro started a breakaway Indonesian Premier League, introducing privately-owned clubs instead of the regional government-funded teams of the PSSI model.
Indonesia were runners-up to Malaysia in Southeast Asia's AFF Suzuki Cup last December, and were successful co-hosts of the 2007 Asian Cup, but the national team's record is poor.
Indonesia are 132nd in the FIFA rankings -- below Yemen and Kenya -- and have never made the World Cup finals.