SINGAPORE, Aug 12, 2010 (AFP) - The inaugural Youth Olympic Games get under way in Singapore on Saturday, realising a long-held dream of International Olympic Committee president Jacques Rogge.
The August 14-26 showpiece is designed as a stepping stone for young athletes striving to compete at an Olympics proper, while also encouraging youths to take up sport and spend less time glued to computer and television screens.
Some 3,600 athletes aged 14 to 18 will compete in the 26 events that make up the Olympics, with a simultaneous cultural and education program running to teach them about Olympic values and global issues.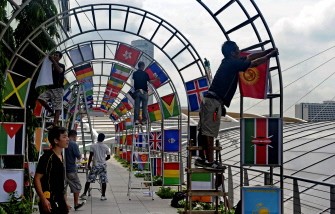 This photo taken on August 10, 2010 shows workers hanging up flags of participating countries in preparation for the inaugural Youth Olympic Games in Singapore. AFP
The concept is the brainchild of Rogge, who has championed the idea since 2001 when he first won the IOC presidency.
"The message of the Youth Olympic Games is clear -- this isn't just competition, it's about learning and sharing too," the Belgian said recently.
"Above all, we want these young people to have a wonderful time at the Singapore Games, to have an Olympic experience that they can take away with them and share with their friends around the world."
In a quest to tap into youth culture, the Games have embraced YouTube and social networking sites Facebook and Twitter while swimming superstar Michael Phelps and sprint king Usain Bolt were employed as Games' ambassadors.
But both Phelps and Bolt have since announced they will not be attending, leaving fellow ambassador, pole vault queen Yelena Isinbayeva, as the lone superstar attraction.
"Even though I can't make it in person, because I'll be competing at the US Nationals and (hopefully) Pan-Pacific (Championships), I will definitely be there in spirit," Phelps wrote on his Facebook page.
Bolt also used Facebook to announce he was not coming.
"My advice to the athletes going to Singapore is to first of all have fun. Just remember all the hard training you did, do what you enjoy and you will always succeed," he said.
The Jamaican has since ruled himself out of the rest of the 2010 season because of a back problem that affects his striding power.
The Games can boast world class talent in Britain's Tom Daley, the 16-year-old world 10m platform diving champion and a 2008 Beijing Olympian.
Daley has been struggling with a back injury but is now fit and follows up his Youth Games appearance at the Commonwealth Games in Delhi.
He said he was relishing the athletes' village environment in Singapore and was happy to advise anyone on what it was like competing in a full-blown Olympics.
"It is good to go and practice in an Olympic environment where you are in an Olympic village as opposed to a hotel all the time," he told British media.
"If anyone had any questions then I would be more than happy to speak to people about heading into an Olympic experience."
Diving is shaping up as a highlight sport with China's Qiu Bo, the 2008 world junior champion, facing off against Daley, who beat him into second place at the 2009 world championships in Rome.
Other key events include athletics, swimming and basketball, but football has been diminished with big name countries like Brazil and Spain not taking part, which has been reflected in poor ticket sales.
Singapore was awarded the Youth Olympics ahead of Moscow and is hosting a multi-disciplinary sporting extravaganza for the first time.