LONDON, Sept 4, 2010 (AFP) - Jermain Defoe believes his partnership with Wayne Rooney has put England back on track after the strike duo tormented Bulgaria in Friday's 4-0 victory at Wembley.
Defoe gave a masterclass in the art of lethal finishing as the Tottenham striker became the first England player to score a hat-trick since Theo Walcott's treble against Croatia two years.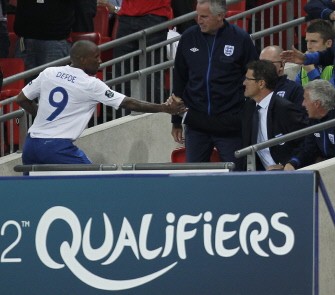 England's Manager Fabio Capello (R) shakes hands with Defoe after he is substituted against Bulgaria during the match. AFP
But Defoe was happy to give most of the credit for his goal-spree to Rooney, who finally cast off the lethargy that dogged him at the World Cup to play a decisive role in all four England goals in their opening Euro 2012 qualifier.
Fabio Capello has tinkered with England's tactics since the team's woeful performance at the World Cup and the coach's decision to allow Rooney to play a deeper role worked wonders for Defoe.
With Rooney playing in the hole between Bulgaria's defence and midfield, the Manchester United star had plenty of space to thread killer passes through to Defoe and his team-mates.
It was a potent combination which Bulgaria never got close to subduing.
Rooney set up two of Defoe's goals directly and played a key role in the other, leaving the former West Ham forward looking forward to their next game together against Switzerland in Tuesday's qualifer.
"When you are playing with great players, I always say you will get chances and it is just a case of taking them," Defoe said.
"I felt sharp. I think the system we played worked well. I was up front on my own and Rooney was behind me.
"He got on the ball. He is a fantastic players and if you make runs he will find you. Everything seemed to work and I really enjoyed it.
"Obviously when you play with a partner it takes a bit of time to gel but Wazza (Rooney) is a great player and technically gifted.
"When I got the second he said 'keep going and you'll get the third' and it's always nice when you play with a partner and he wants you to get the hat-trick. It's good."
Defoe has never been able to establish himself as a regular in the England team despite several prolific seasons at club level.
But his predatory instincts are second to none in the Premier League and, with Rooney providing the ammunition, he was able to enjoy his best night in an England shirt.
"It's difficult to find the words to describe the feeling you get when you score a hat-trick for your country - it's the best feeling in the world," he said.
"To score one goal is fantastic, so to get a hat-trick in front of all the fans and my family. It's a special night."
Defoe has always been fascinated by the art of goalscoring and spent his childhood pouring over videos of Arsenal legend Ian Wright before eventually working with the former England striker at West Ham.
Wright has stayed in touch with Defoe ever since and sent him a good luck message before the Bulgaria game predicting he would score a hat-trick.
"I spoke to Ian Wright before the game. He said you will get a hat-trick. It was quite mad that he said that," Defoe added.
"I just got a text from him. He said 'I love you JD, well done'. It was brilliant.
"When I was younger he was someone I used to study. I would watch videos of him and look at his movement.
"Even now before every game we speak about finishing and movement. It is nice because he has been there and done it.
"When I was 16 he was at West Ham and every day after training we would practise finishing, movement and getting in the box. It has definitely stuck with me."
Defoe limped off at Wembley on Friday after getting a kick on his ankle while scoring his third goal, but he is confident neither that injury or a recurring groin problem will keep him out of the Switzerland match.
"It has been a little bit sore for a few weeks, but I am doing a lot of core work in the gym to strengthen the area and it felt good. I didn't get a reaction which was nice," Defoe said.