MADRID, May 17, 2010 (AFP) - Pep Guardiola proved to be Real Madrid's nemesis once again as his Barcelona side defeated their expensive 'Galacticos' in both 'El Clasicos' and retained La Liga on the final day of the season.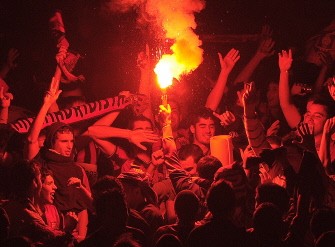 Barcelona's supporters celebrate their team's victory in their Spanish League football match against Valladolid at the center of Barcelona, Spain on May 17, 2010. AFP PHOTO
Guardiola won an historic league, Kings Cup and Champions League treble in his debut season which was always going to be difficult to follow, however, his Barcelona troops continued their excellent brand of exciting football and delivered the league title again.
A record 99 points saw Barcelona crowned league champions ahead of Real and the club also won the European Super Cup, Spanish Super Cup and a first ever World Club championship.
Real had splashed over 250 million euros to take the limelight away from Barcelona but ended up empty-handed as Guardiola masterminded two 'El Clasico' wins (1-0, 2-0) over Madrid.
Since taking charge, Guardiola has won a perfect four Clasicos, two league titles, the Champions League, a Kings Cup, a European Super Cup and a World Club championship.
It's no wonder the club recently said they want him to build a dynasty at Camp Nou.
Guardiola is still young in managerial terms at 39 and has the full backing at a club where he won five league titles and the 1992 European Cup as a player.
The club showed a lot of faith by giving him the job in the summer of 2008 when Frank Rijkaard's time was up as Guardiola had no top-flight managerial experience having only worked with the Barcelona B team.
The two setbacks for Guardiola and Barcelona this season were a last 16 Kings Cup elimination to Sevilla and the Champions League semi-final loss to Inter Milan when they paid the price for a poor first leg which ended in a 3-1 reverse.
Guardiola had not experienced many big defeats as a manager but was humble in defeat against Inter as Jose Mourinho raced onto the Camp Nou pitch with his finger aloft.
Barcelona had crushed Arsenal in the quarter-finals prompting Gunners coach Arsene Wenger to say the Spanish side were the best he had ever seen.
"This Barcelona team is the best I've ever faced," said Wenger. "They play at a higher pace collectively and I don't think we have ever been dominated so badly."
Barcelona were perhaps not as impressive as the season before but under Guardiola they had the best defence in the league, lost just once (to Atletico Madrid) and notched a record number of points.
Guardiola's summer signings had mixed reviews with club record signing Zlatan Ibrahimovic starting well before ending the season on the substitutes bench.
Ukraine centre-back Dimitro Chigrinsky, 23, also spent most of the season on the bench following his 25 million euro move from Shakhtar Donetsk although Guardiola has tipped him to come good.
Brazilian left back Maxwell, a summer signing from Inter Milan, had a fine debut season while Guardiola unearthed a new gem from the youth system in Pedro Rodriguez.
Pedro, 22, was playing in the Spanish third division a few years ago but ended up demoting Thierry Henry and becoming a first team regular.
For next season the rumours are that Valencia's Spanish star David Villa will join as doubts surround the future of Ibrahimovic while Arsenal captain Cesc Fabregas, a product of Barca's youth system, is a long-term target.