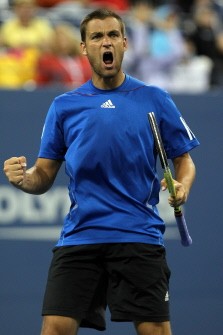 Mikhail Youzhny celebrates a point against Stanislas Wawrinka. AFP
NEW YORK, Sept 9, 2010 (AFP) - Mikhail Youzhny of Russia reached the US Open semi-finals for the second time on Thursday with a 3-6, 7-6 (9/7), 3-6, 6-3, 6-3 win over Switzerland's Stanislas Wawrinka.
The 12th seed will play the winner of the Spanish matchup between top seed Rafael Nadal and eighth seed Fernando Verdasco for a place in Sunday's final.
Youzhny reached the semi-finals here in 2006 when he lost to Andy Roddick in four sets, having defeated Nadal in the previous round.
"It was tough conditions (windy), and of course you understand you can beat him; you also understand he can beat you, because it's close match," he said.
"I just try to play every point. I try not to think about you can do it or not. But, you know, after one-all in sets it was like another match, and both players can win."
Under the tutelage of Roger Federer's former coach Peter Lundgren, Wawrinka reached his first Grand Slam quarter-final at the 23rd time of asking on the back of wins over fourth seed Andy Murray and home hope Sam Querrey.
But those two matches were gruelling affairs that saw the Swiss player needing treatment for a thigh muscle strain in both.
On the other hand, Youzhny had enjoyed a comparatively comfortable run through the draw, accounting for John Isner of the United States and Tommy Robredo of Spain in the last two rounds.
The Russian opened with a break of serve, but he gave that back straight away.
Games then went with serve until 4-3 for Wawrinka when a sloppy Youzhny backhand into the net brought up a break point which the 25th seed converted on another unforced error.
Wawrinka wrapped up the set, but he quickly fell 2-0 behind at the start of the second set.
Once again, though, the Russian was unable to pull away as he in turn dropped serve in the following game, double-faulting on break point after three unforced effors had put him in trouble.
With the gusting wind conditions that have buffeted Flushing Meadows all week returning to make serving tough, two further breaks followed to make it four in a row.
Wawrinka broke the sequence by serving out at love to level at 3-3 and serves were then on top forcing a tie-break.
There were no mini-breaks in that until the 10th point, when Youzhny brought up two set points with an inside-out, forehand drive deep into Wawrinka's backhand corner.
The Swiss player saved a third set point at 6-7, but Youzhny won the next two points with two majestic forehand winners to level the score.
Wawrinka reasserted control in the third set, breaking in the second game to move out into a 3-0 lead, although he then missed a straightforward volley at the net in reply to a Federer-like, back-to-the-net, between-the-legs shot from Youzhny.
The break though was all Wawrinka needed to step out into a two sets to one lead.
In keeping with the roller-coaster nature of the tie, Youzhny dominated the fourth set on the back of a break of serve in the second game with Wawrinka once again needing treatment to his thigh injury.
The Swiss player looked leg-weary going into the decider and Youzhny pounced immediately to break serve in the opening game, only for Wawrinka to claw his way back into it at 2-2.
Further service breaks went the way of Youzhny in the fifth and ninth games as Youzhny finished the stronger.
The Russian has a 4-7 win-loss record over Nadal and stands 0-2 against Verdasco.
Asked if he would be a spoiler for a blockbuster final between Nadal and Roger Federer, he replied: "I'm ready to be bad person. I love to be bad person in this case."