Famous golfer Colin Montgomerie, the designer of the Montgomerie Links Vietnam on the central coast, will be the guest of honor at the golf course's grand opening ceremonies, to be held April 19.
The man's design has been voted "best new course in the country" accolades from Vietnam Golf Magazine.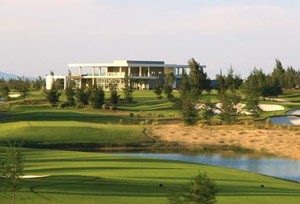 The 3,000-square-metre clubhouse at Montgomerie Links
"There could be no sweeter icing on the cake than a visit from Monty," said Jon Tomlinson, general manager at Montgomerie Links. "Needless to say, our members are eagerly anticipating his observations on the design – not to mention a chance to play a hole or two with a legend – and I know he's looking forward to seeing his fully realized creation."
The 18-hole course, located along the coastal road between Danang City and Hoi An, a UNESCO World Heritage center, was informally opened last August. A par 72 that measures as much as 7,090 yards from the back tees, it also has three less-daunting sets of tees, the forward-most being 5,119 yards.
The course includes a golf academy and practice facility, and 54 estate villas.
Montgomerie Links' owner, Indochina Capital, has committed US$45 million to the project.