MANCHESTER, England, March 3, 2010 (AFP) - Manchester United chief executive David Gill said on Wednesday there was no prospect of the Glazer family selling the club as he questioned the wisdom of a proposed takoever.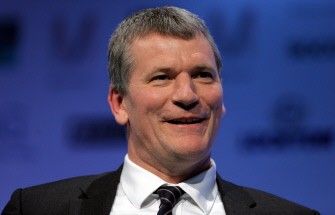 Manchester United chief executive David Gill answers questions during a question and answer session following the European Clubs Association (ECA) AGM at the Soccerex European Forum in Manchester on March 3, 2010. AFP photo
A group of wealthy Manchester United supporters, the Red Knights, confirmed on Tuesday that they had begun moves towards a possible takeover of the heavily-indebted club.
But Gill told the Soccerex conference in Manchester on Wednesday the Glazers were staying at Old Trafford.
"The owners are very long-term owners and have shown that with Tampa Bay (American football team), which they took over in 1994-5," he said.
"They are not sellers, (but) that's not saying people like these Red Knights can't come forward with some ideas.
"But there is no indication to mean that they want to sell and in that case they cannot buy the asset, it's not for sale."
The Red Knights group, which includes some senior City of London figures including Goldman Sachs chief economist Jim O'Neill, want to wrest control of the Premier League champions from the US-based Glazers.
The most recent accounts for United's parent company, Red Football Joint Venture, showed that it had debts of 719 million pounds (1.08 billion dollars).
Fans fear the cost of servicing that debt will slow investment in Sir Alex Ferguson's team, if it is not already doing so.
For any takeover bid to succeed, the would-be purchasers would need in excess of one billion pounds to enable the Glazers to walk away with the kind of profit on their investment that would convince them to sell.
However, Gill insisted: "The Glazers have no wish to sell and from our perspective they are running the club in the right way."
And he said any Red Knights takeover would lead to a loss of clarity and efficiency in the way United was run.
"The Red Knights proposal, the idea of having 20, 30 or 40 very wealthy people running Manchester United, I don't know how it would work in practice.
"The better-run clubs are where there is clear, single decision-making and it's quick and efficient -- Roman Abramovich at Chelsea, Sheikh Mansour at Manchester City, Silvio Berlusconi at AC Milan.
"Having a number of wealthy people involved, they will all want to be involved in decision-making.
"I'm not sure what their endgame is but the endgame is irrelevant.
"The vast majority of fans of Manchester United should be happy with what we are doing and staying at the top of domestic and world football."
Some United supporters, though, have taken to wearing green and yellow scarves, the colours of the original Newton Heath club from which United emerged, in protest at the Glazers.
But Gill said a measure of unhappiness was unavoidable.
"We have 330 million followers around the world, that's a key strength and within that it's highly likely you will have some dissenters."
He added the 80 million pounds transfer fee from the sale of Portugal winger Cristiano Ronaldo was still available for Ferguson to spend on signing players.
"Without doubt," he said. "We are looking at players all the time, the money from Ronaldo is sitting there in the bank account, we have been clear on that.
"But Alex has been very clear he is not going out to chase and over-pay for a player just because everyone else thinks we should.
"He's a Scot, he wants value for money."