SAN JUAN, Argentina, July 17, 2011 (AFP) - Venezuela completed a weekend of Copa America shocks by reaching the semi-finals for their first time in their history with a gutsy 2-1 win over fancied Chile on Sunday.
Oswaldo Vizcarrondo gave Venezuela a 34th-minute lead, nodding in after good work by Juan Arango, only for Humberto Suazo to level midway through the second half with his first competitive international goal since November 2009.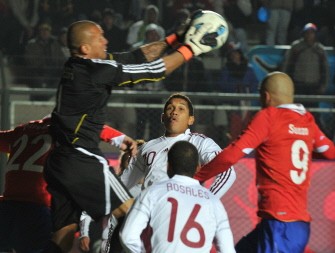 AFP - Venezuelan goalkeeper Renny Vega (L) jumps to catch the ball during the quarter-final football match on July 17, 2011.
That gave the Chileans fresh energy and they had the Venezuelans on the rack for the best part of the next quarter-hour.
But just as extra-time seemed to be on the way once again for the fourth time in four quarter-finals Gabriel Cichero struck from close range to spark scenes of joy among the travelling Venezuelan fans and leave the Chileans, four-times finalists, stunned.
The giant-killers will now go up against a Paraguay side which sent holders Brazil packing after a penalty shootout success at La Plata outside Buenos Aires.
But the baseball-loving Venezuelans will have to make do without Tomas Rincon, red-carded in injury-time for some shirt pulling.
Chile also finished a man short after having Gary Medel sent off eight minutes from the end.
The shockwaves reached as far as Cuba, where joyous Venezuelan President Hugo Chavez, preparing for chemotherapy on the Communist island, sent out his customary congratulatory tweet.
"Glory to the brave people! Let's pay supreme tribute to our boys from the Glorious Vinotinto (the team nickname)," Chavez tweeted.
"Viva Venezuela! Oh what a goal. Bravo Venezuela," tweeted an exuberant Chavez at half-time after Vizcarrondo's opener, indicating his belief that former Cuban leader and long-time friend Fidel Castro had "brought the Vinotinto luck."
Coach Cesar Farias was also delighted - though in typically more restrained fashion.
"The happiness we feel gives us the desire to keep on in the same vein," said Farias.
But he added that winning the semi would be a tall order.
"Paraguay are a strong team and they will start favourites, insisted Farias.
Goalkeeper Renny Vega told Fox Sports that "we are getting stronger all the time. I just hope we can get to the final now."
"It may be a surprise for many people but I saw Venezuela came here with humility yet merit respect. Our dream has always been to win the Copa."
Chile missed the creative Jean Beausejour, sent off against Peru, and although they had a second-half purple patch with Alexis Sanchez always looking as if he could provide a math-winning flash of inspiration they were undone when Cichero reacted quickest in a crowded box to turn home the winner.