BERLIN, May 19, 2010 (AFP) - The Ghanian football federation on Wednesday apologised to Germany skipper Michael Ballack for the tackle which ended his World Cup dreams.
Chelsea star Ballack was ruled out of the finals after a scan revealed torn ligaments in his ankle following a heavy tackle by Portsmouth's Germany-born Ghanaian Kevin-Prince Boateng during Sunday's FA Cup final win.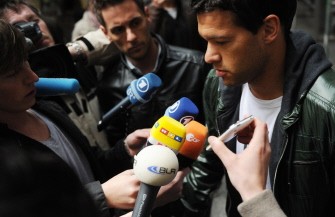 Michael Ballack, captain of the German national football team, addresses journalists as he leaves the practice of sport medicine specialist Hans-Wilhelm Mueller-Wohlfahrt on May 17, 2010 in Munich, southern Germany. AFP photo
"We're sorry that Michael Ballack cannot take part in the World Cup. He is well known in Ghana. We wish him all the best and hope that he can play again as soon as possible," Ghanian team director Anthony Baffoe told the German newspaper Kolner Express on behalf of his federation.
Ghana play Germany in their final group match at the World Cup and Baffoe said Boateng's participation in this game was yet to be decided.
"Our coach will decide if Kevin will play or not. I can only say that Kevin obviously didn't want Ballack to be so seriously injured. I know as well that he's sorry about all that," added Baffoe.