STUTTGART, Aug 11, 2011 (AFP) - Goal-scorer Bastian Schweinsteiger has said Germany need fear nobody on the international stage after their impressive 3-2 win over Brazil as rising star Mario Goetze shone against the South Americans.
Even with chief play-maker Mesut Ozil left in Spain to recover from Real Madrid's recent tour, Germany's young guns rose to the challenge and downed the Brazilians as the teams shared five second-half goals.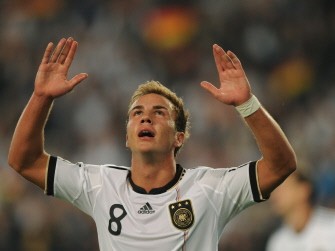 AFP - Germany's midfielder Mario Goetze celebrates scoring during the Germany vs Brazil friendly
"It was (a) good international match between two top teams and it has shown that we don't need to hide from anyone at this level," said Bayern Munich's Schweinsteiger.
"We wanted to put the Brazilians under pressure and we did just that.
"Mario Goetze did his job really well and with his abilities we are just pleased to have someone like him in the team."
This is the first time Germany have beaten Brazil for 18 years and only the fourth time the hosts have beaten the South American giants in 21 meetings.
After a goal less first 45 minutes, a second-half penalty by Schweinsteiger and a superb individual effort from Goetze put the hosts ahead before Brazil's Robinho converted a penalty on 71 minutes.
The Germans made sure of victory when Bayer Leverkusen's Andre Shuerrle came off the bench to score the German's third on 80 minutes while Brazil's Neymar scored his side's second in the 92nd minute.
This was the first time the two teams have met since 2003 and with the game from Stuttgart's Mercedes-Benz-Arena televised in 190 countries, it lived up to it's billing as the clash of two of football's biggest names.
This was the battle of the outrageously talented 19-year-old stars: Goetze against the spikey-haired Neymar and the German over-shadowed the silky-skilled South American.
Having ran Hamburg ragged last Friday as German champions Dortmund won 3-1 on the opening day of the new season, the German teenager proved he can step up to the international stage by giving Brazil the same treatment.
"I enjoyed every moment, the team played well and helped me a lot," said Goetze, who made his first start for Germany in seven appearances.
"It was a fantastic game for me personally.
"After Friday, I have read a few things about me in the papers, but I just made sure I focused on the game.
"I am simply thrilled that we won the game and that I managed to play a role in the win."
Germany coach Joachim Loew heaped praise on Goetze's prodigal talent, but the national coach admits he has am embarrassment of riches with Bayern's Thomas Mueller and Toni Kroos both also impressing against Brazil.
"Mario Goetze has extraordinary vision on the pitch and reads the game so well," said the 51-year-old.
"It is the little things he does which makes him so strong.
"The players showed plenty of desire: we started well and at a good pace.
"We just have to keep working, we went close in tournaments in 2008 and 2010 and we need to build on that.
"I am just very happy that I have so many options available to me."
Having crashed out of last month's Copa America after losing the quarter-final to Paraguay on penalties, Brazil coach Mano Menezes is under increasing pressure.
He has won just one of his last five games and has now suffered back-to-back defeats having taken over from Dunga following last year's World Cup.
"The Germans were clear winners, but games like these against the top teams are what we need," he said.
"We were slow to get into the game and we weren't as sharp as the Germans.
"I had imagined things would be a bit different over the last year, but that is life with football and you can't just wait for miracles.
"We have to work hard to get better and correct the individual mistakes we made in our defence."