RIO DE JANEIRO, July 31, 2011 (AFP) - French coach Laurent Blanc said the next three years could see a decline in the powers of Spain after his team were drawn against the defending champions in qualifying for the 2014 World Cup on Saturday.
Les Bleus, having slid beneath Norway and Greece in the FIFA rankings to miss out on a seeded spot, will have to battle furiously for top spot and with it automatic qualification at Spain's expense in Group I.
But Blanc, who had a spell as a player with Barcelona and was in the French squad which won the 1998 World Cup, said anything can happen.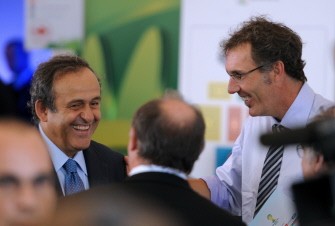 AFP - FIFA's vice-president Michel Platini (L) laughs with France coach Laurent Blanc on July 30, 2011, at Marina da Gloria, Rio de Janeiro, Brazil, before attending the Preliminary Draw
"Three years is a long time and 2014 isn't now. Spain are currently the best team there is. But we don't know if that will be the case in two or three years time.
"You have to go up against the best if you want to achieve something at a World Cup," said the former Marseille, Inter Milan and Manchester United star.
"It's to be expected that we drew a big fish as we were not seeded."
Even so, with only the nine group winners assured of a place in the finals it would be a sensation were the Spanish to miss out.
It is likely the French will have to go through the playoffs once again as was the case last time out when to reach the 2010 finals in South Africa they famously required Thierry Henry's handball to muscle out the Republic of Ireland.
Belarus, Georgia and Finland will be the sides trying to trip up both the former winners in the group and Blanc and Spain counterpart Vicente Del Bosque said they respected all their rivals.
Belarus took four points off the French in Euro qualifiers hence Blanc knows the smaller fry cannot be underestimated.
Even so he sounded a defiant note despite being drawn in the only group to contain two former champions.
"We have to make the most of our chances. If you only focus on the fact you are playing Spain you'll say it's impossible or at any rate very difficult. Don't forget the eight best runners-up also go through."
Del Bosque, who masterminded last year's World Cup success, warned in statements to Spanish media that "France is our main rival - but it would be dangerous to underestimate the other teams we have been drawn against.
"Nothing is certain these days, there are no easy teams.
"For the moment the important thing is to concentrate on getting to the European Championships and doing well there and then we will think about our World Cup rivals," the former Real Madrid coach said.