PARIS, April 19, 2010 (AFP) - The French football team's image, already dented after the Thierry Henry handball controversy, has taken another major hit with the sex scandal enveloping members of the team including star player Franck Ribery.
The ongoing police inquiry into an affair of prostitution involving an under-age call-girl could not have come at a worse time for Raymond Domenech and his players just 50 days before the start of the World Cup.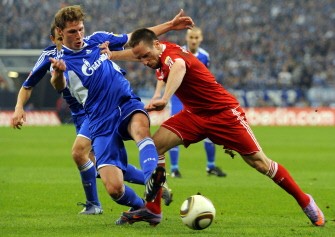 Franck Ribery (R) plays for Bayern Munich during a Bungdesliga match (AFP file)
The official line on Monday from the French Football Federation (FFF) and the national team's sponsor, Adidas, was that "This relates to a private matter, there is no reaction to make."
But another source at the FFF who wished to remain anonymous told AFP: "This is yet another blow for the French team."
While substance in the form of results on the pitch is crucial, image plays a major part too in a team's preparations for an event of the magnitude of the World Cup.
Especially when the team, France, are among the traditional favourites to be crowned world champions after their exploits in winning the 1998 World Cup on home soil and then making the final in Germany in 2006.
So when it emerges that a player of the stature of the 27-year-old Bayern Munich midfielder Ribery could face a spell in prison for having sexual relations with an under-age prostitute it's hard to underestimate the damage that has on team morale.
Ribery was questioned by police investigating the affair last week and on Monday it emerged that he admitted having sexual relations with a prostitute, but denied knowing that she was a minor, according to judicial sources.
Ribery and an entire nation of football fans now face an anxious wait to find out whether the judge leading the inquiry will bring charges against arguably the most gifted player in Domenech's squad.
If charged and found guilty Ribery, who is married and has two daughters, could face a maximum sentence of three years in prison and a 45,000 euro fine.
The affair has produced damaging headlines in newspapers beyond France's borders.
In Spain sports daily Marca described it as "a major scandal at the heart of French football and the national team...if the scandalous details are confirmed".
In England The Times carried the story on its news pages, saying: "The reputation of France's national football team was under scrutiny after two players were questioned by police in connection with a prostitution ring".
Another piece in the same paper was more direct, suggesting that Domenech needed this latest blow "like a bullet in the head".
For sure Domenech has plenty on his plate at the moment without this latest damaging distraction which comes after Henry's infamous handball which led to the goal that sent France to South Africa at the expense of the Republic of Ireland last November.
That incident cast a black cloud over France's qualification for the 2010 finals with Henry forced to make a public apology and even talk at one stage of the play-off being replayed.
Headlines such as "the hand of frog" made uncomfortable reading.
The French manager, who only held on to his job by the skin of his teeth after France's disappointing Euro 2008 campaign, is also having to contend with injuries to key players like William Gallas ahead of his World Cup squad announcement due on May 23.
Domenech, who has spoken recently about chasing "egos" out of his camp, has also had the disappointment of seeing his side handed a footballing masterclass by European champiions Spain in a recent World Cup warm-up.
That 2-0 defeat suggested France will have their work cut out to make it past the first round in South Africa - Chelsea striker Nicolas Anelka certainly thinks so.
"We can't continue to take lessons in football like we suffered against Spain," warned Anelka last week.
"We have to work to find an answer, if not it's just not possible, we'll be coming home after the three (first round) matches."
The France attacker, in the interview weith Orange Sport, added: "You can't go and lose 2-0 like that - it was truly ridiculous.
"I believe for us - and we all know it - we were 'killed' on the pitch. It was a case of Division One against Division Four.
"That's the truth - it was like professionals taking on amateurs."
France are drawn in Group A with Uruguay, Mexico and hosts South Africa.