A delegation of former French footballers arrived in Ho Chi Minh City Monday evening to appear in some events scheduled for French Week.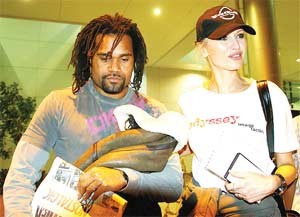 Christian Karembeu and his wife, Adriana arrive in Ho Chi Minh City for the French Week

The delegation is led by Coach Michel Hidalgo, who helped French team to achieve the highest position in the European Football Championship in 1984. The delegation also includes Christian Karembeu, Jane Djorkaeff, Bernard Diomede, Daniel Bravo and Dominique Rocheteau, some of whom gained honor as players in the World Cup 1998.

The delegation also includes Slovak fashion model Adriana Sklenarikova, the wife of Karembeu.

The players were quite tired due to a plane change in Doha, Qatar. However, most of them were excited about the upcoming friendly match with Vietnamese footballers. Patrice Loko said, "This visit probably will be an unforgettable memory to me". 

The French footballers had a press conference this morning at the Thanh Long Entertainment and Sport Center in Binh Chanh District. Later, they will participate in a friendly match with the retired Vietnamese footballers, including Huynh Hong Son, Le Huynh Duc, Nguyen Hong Son and Vo Hoang Buu. The match will kick off at 9 p.m. in Thong Nhat Stadium in District 10. 

The delegation will also participate in a gala diner at the White Palace Convention Center in Phu Nhuan District. The next day, they will be the special guests of a charity party entitled Montmartre Dance at the Consulate of France in District 1.