ROSARIO, Argentina, July 17, 2011 (AFP) - A political undercurrent is running through the choice of venues for the Copa America and as World Cup qualifiers also loom the issue is becoming increasingly controversial.
The Argentine authorities decided early on to take the event out to the provinces, their decentralising zeal meaning the capital Buenos Aires will stage only the July 24 final at River Plate's Monumental Stadium.
Several games, including the hosts' opener, have been staged at the ultra-modern La Plata stadium, an hour outside the capital.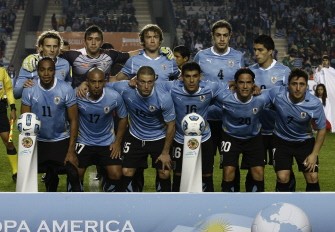 AFP - Uruguay pose for a picture before a 2011 Copa America Group C first round football match against Mexico, at the Ciudad de La Plata stadium on July 12, 2011
After starting off at La Plata the Argentines moved on to Santa Fe, where they were booed after drawing with Colombia, before re-establishing their bond with the fans after blitzing Costa Rica in Cordoba.
They did not -- surprisingly for many historians of the game here -- travel to Rosario, four hours north-west of Buenos Aires, even though it is the birthplace of star man Lionel Messi.
It was also where Argentina played their second phase matches on the way to World Cup glory in 1978.
Media and local government sources in the city told AFP this decision was based, not just on the modern facilities of La Plata, but also on a poorly-organised World Cup qualifier against Brazil in 2009 which Argentina lost.
The albiceleste returned to Santa Fe, home to the Colon club, on Saturday for their quarter-final with Uruguay and promptly lost on penalties.
Colon chairman German Lerche on Saturday stressed that he hoped the stadium, dubbed the Elephants' Graveyard for hosting several domestic shocks, would be a key venue for 2014 World Cup qualifiers, and suggested that decentralisation, whose by-product is healthy extra revenue for host cities, should continue.
"The qualifiers are not the exclusive preserve of River. Football is growing in the interior (of the country) - the team has seven players from Santa Fe.
"As happened with the Copa America, it would be a very intelligent decision for (2014 qualifiers) to come to the provinces," Lerche told TyC Sports.
Argentine Football Association president Julio Grondona, who is also a FIFA vice-president, indicated that "the stadiums which will be used will be those which were Copa America venues."
Lerche insisted Sante Fe fans were "very passionate" even if they booed the side against Colombia.
"They didn't see a good match," he complained by way of justification.
On Saturday, the cheers shook the stands - until Carlos Tevez missed the crucial penalty which sent the hosts crashing out.
Rosario now stands to miss out on millions of dollars in potential World Cup qualifier revenue.
"We would have loved to stage Copa games and it is a great shame we were bypassed. But it is the AFA's decision," Rosario municipal spokesman for sporting affairs Rolando Dal Lago told AFP.
"We hope they will come back - Rosario would welcome the team with open arms," he added - before Grondona appeared to shut the door on that immediate possibility.
The 1978 matches and the 2009 Brazil qualifier were held at Rosario Central's ground.
Lalo Falcioni, a Rosario-based radio reporter, told AFP the Brazil match was a chaotic affair and the AFA had not forgotten.
"It was a disaster and there were complaints. There were ticket problems, hooliganism. People were left outside who had tickets and others got in with the help of touts. There was a lack of municipal control," said Falcioni.
Not helping the cause of either Rosario or River Plate is that both now have an image problem, having just been relegated.