SALTA, Argentina, July 13, 2011 (AFP) - Paraguay were glum at the win that got away while Venezuela were elated at a rise-off-the-canvas draw at the Copa America on Wednesday.
Paraguay were seemingly home and dry and potentially on their way to winning Group B when they led 3-1 after having gone a goal down early on.
But Venezuela would not give up and snatched a draw in a pulsating finale and they instead can go into the last eight on a high while the Paraguayans were left to feel glum after a third straight draw.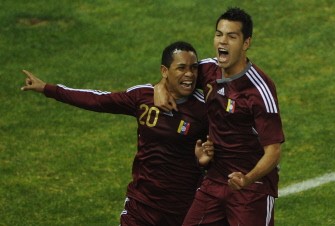 AFP - Venezuelan defender Grenddy Perozo (L) celebrates with forward Nicolas Fedor after scoring the teams's third goal against Paraguay
The three points do earn them a passage to the last eight as their goal difference was superior to the third finisher in Group A, Costa Rica.
Yet coach Gerardo Martino felt deflated afterwards - especially as it was almost a case of deja vu all over again, his side having also let slip a lead at the death against Brazil.
"This is a step back for us - but Venezuela showed a lot of character to come back.
"Against Brazil we were superior and drew and tonight we weren't so good and we drew again."
Venezuelan coach Cesar Farias, who will doubtless be on the receiving end of some congratulatory messages from uber-fan President Hugo Chavez, saluted his charges.
"We thought this would be a very difficult group, that maybe we might go through - but in third place. But we came through unbeaten."
Striker Nicolas Fedor, who scored his side's second goal before Grenddy Perozo's brave diving header deep into stoppage time, also lauded the Vinotinto, who are through to the quarters for the second time in succession - but the first ever on foreign soil.
"Above all we showed we are growing mentally as despite being down we kept on pushing and trying to save the situation," said the forward from Spain's Getafe, brought on as a sub for Yohandry Orozco on 67 minutes.
"I don't know if a draw is a fair outcome but you can say it was a draw we really fought for and when you work hard you get your reward."