BOCHUM, Germany, July 3, 2011 (AFP) - Star forward Marta inspired Brazil to a 3-0 victory over Norway to reach the quarter-finals of the women's World Cup as Australia stayed in the hunt with a 3-2 win over Equatorial Guinea Sunday.
"Thank God Marta is Brazilian. Thank God she is part of our squad," said coach Kleiton Lima as the five-time world player of the year scored two goals and set up Rosana for a third.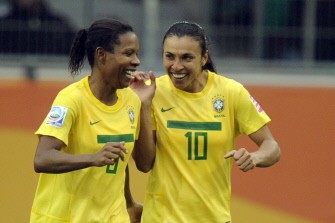 Brazil's defender Rosana (L) celebrates with her teammate Brazil's striker Marta after scoring the 2-0 during the match Brazil vs Norway in Wolfsburg on July 3, 2011. AFP
"She is down to earth and humble and yet she is a genius," said Lima of the 25-year-old who demonstrated her famed fancy footwork skills which had been lacking during their opening 1-0 win over Australia.
Brazil have six points from two games to head the group with 1995 winners Norway and Australia, who are both on three points, meeting in the final group match with the winner joining the South Americans in the last eight.
Brazil join France and Germany, who have already reached the knock-out round from Group A, with Japan going through in Group B, and the United States and Sweden advancing in Group C with one game to play.
The South Americans need just a point from their final outing against Equatorial Guinea on Wednesday to guarantee top spot which will decide whether they will play the USA or Sweden.
"Our quarter-final rivals, Sweden or the United States, will have a lot of problems even if they're strong teams because we're ready and we've come here to be world champions," warned Marta.
Marta, the top player during the 2007 edition in China with seven goals on Brazil's road to the final, finally got to give a demonstration of her skills despite a pitch made slippery by constant drizzle.
She broke through after 22 minutes when she outwitted Swedish defender Maren Mjelde.
And the game was over within minutes of the restart as Marta raced down the right flank, feeding the ball to Rosana, and two minutes later herself slipped the ball past Ingrid Hjelmseth.
Norway coach Eli Landsem lamented: "We simply didn't have the speed that is required. It was impossible (to stop Marta). We did everything we could but we were punished for not being as fast as we could have been."
Earlier Australia kept their dream alive with goals from Leena Khamis, Emily van Egmond and Lisa De Vanna, with the Africans getting two back thanks to captain Anonman in either half.
"I'm pleased with the win -- it means we're still in the competition," said Australian coach Tom Sermanni.
"It was a game of contrasts, we played some excellent football and created great chances and at other times we made some very poor mistakes which could take five years off my life expectancy!"
"Hopefully we're in a position to decide our own destiny."
Sydney FC forward Khamis opened for the Matildas after eight minutes.
But there was some controversy in the 16th minute when Khamis hit the post and African defender Bruna caught the ball, believing a free-kick had been awarded, dropped it and played on.
The incident was not seen by Hungarian referee Gyoengyi Gaal, who later apologised through FIFA for missing the obvious hand-ball.
Anonman equalised after 21 minutes but the 11th-ranked Australians came out battling after the break.
Van Egmond, 17, got her first international goal three minutes later before substitute De Vanna got a third on 51 minutes. Anonman pulled one back for the African side after 83 minutes.
Equatorial Guinea coach Marcello Frigerio said he was proud of the effort shown by his 61st-ranked side who are out of the tournament after their second loss after a 1-0 opening defeat to Norway.
"We regret very much that some of our important players had to be left at home," added Frigerio.
Sisters Salimata and Bilguisa Simpore, both accused of being men, were excluded from the team before the tournament while Anonman remained in the squad despite a pre-tournament gender row.
Monday is a rest day at the competition with the group stages concluding on Tuesday and Wednesday.