BUENOS AIRES, June 30, 2011 (AFP) - Despite nine World Cup wins between them, Brazil, Argentina and Uruguay, who will embark on their Copa America campaigns from Friday, will have to play catch-up in terms of world rankings after Europe stole a march on them in recent months.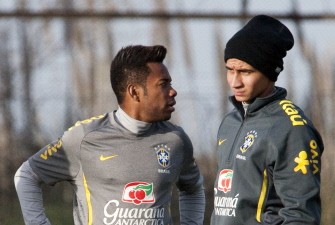 AFP - Brazilian football player Robinho (L) talks with teammate Ganso (R) during a training session on June 30, 2011, in Campana, 70 Km north of Buenos Aires.

Spain's World Cup success over Holland, following on from their Euro 2008 triumph, has propelled La Furia Roja to the head of the FIFA standings with the Dutch in second spot while Germany are third and England fourth based on recent form.
Brazil, despite their proud history, can only manage fifth currently for the best Latin American placing just coming in ahead of Italy, while Argentina just make the top ten - albeit behind ninth-placed Mexico, who will compete as special guests at the Copa.
The Mexicans were boosted by winning the CONCACAF Gold Cup earlier this month, soaring 19 places.
Friendly losses to Nigeria and Poland in recent weeks have meanwhile dragged the Argentines down from a previous fifth.
Uruguay are down in 18th spot while Chile are 27th.
No other Copa participant makes the top 30.