TOKYO, July 18, 2011 (AFP) - Japan erupted in joy early Monday after their women's football team won the World Cup in Germany, hailing the penalty shootout victory as a "dream come true".
Supporters watched the cliffhanger 3-1 shootout win over twice champions the United States live on television at home, in sports bars and in public places across the country.
Hundreds of fans, many of them clad in blue Japan jerseys, bundled out onto the streets of Shibuya, a hub of Tokyo's nightlife, chanting "Nippon! Nippon!" after the match ended at around 6:20 am on Monday.
"Nadeshiko, the world number-ones!" read the headlines in extra editions of the influential daily Asahi Shimbun and the mass-circulation Yomiuri Shimbun handed out in Tokyo.
The Nadeshiko is a neat pink flower cherished in Japan as a symbol of feminine beauty and grace, belying the squad's tough giant-killing run to their first World Cup final.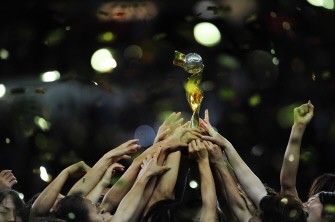 Japan's players celebrate with the trophy after the final Japan vs USA on July 17, 2011 in Frankfurt am Main, western Germany. Japan won 3-1 in a penalty shoot-out.
At one bar in Shibuya, fans roared and shrieked when defender Saki Kumagai sank the winning penalty after twice coming from behind to tie the US side 2-2 after extra time.
"Our players worked really hard and never gave up," 26-year-old female sales clerk Kana Mizuno told the Jiji Press news agency. "They've given me courage.
"It's a dream come true for Nadeshiko Japan. They beat the United States for the first time... Nadeshiko have triumphed and stood on the top of the world," cried an announcer on the Fuji TV network in live coverage.
"They played patiently and patiently to bathe themselves in glory."
"It all ended with a smile on the faces of Nadeshiko," the public broadcaster NHK said, noting that the national side had reached the top for the first time since it was formed 30 years ago.
The first women's World Cup title for an Asian country would come as a big boost to the spirits of those still struggling to rebuild their lives after the March 11 earthquake and tsunami, it said.
"They have kept saying they would bring courage to the victims of the quake disaster."