BUENOS AIRES, June 30, 2011 (AFP) - Argentina skipper Javier Mascherano says the two-time world and 14-time South American champions must try to play to Lionel Messi's strengths at the Copa America, which starts on Friday.
Argentina are under pressure to deliver on home soil, particularly having not won a major event since the 1993 Copa.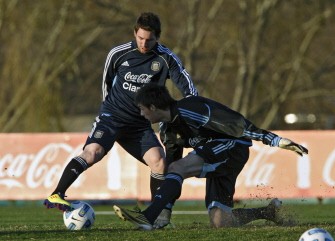 AFP - Lionel Messi (L) controls the ball past a sparring during a training session of the national football team in Ezeiza, Buenos Aires on June 27, 2011
There is also the added motivation that failure would likely allow bitter rivals Brazil to walk off with a hat-trick of successes after 2004 and 2007, both achieved at the expense of the albiceleste.
Mascherano says if they can harness Barcelona team-mate Messi's full range of talents then they can send their rivals packing.
"When you have the best player in the world on your team then you have to make use of that," Mascherano told Argentine daily Clarin in an interview published on Thursday.
"It's not such a bad thing to be depending on the best there is."
Mascherano also rejected the suggestion that Argentina might succumb to over-dependence or 'Messi-dependencia' on the current FIFA Ballon d'Or, who enjoyed a stellar season with Barca.
Without subordinating their style to one man, the team must nonetheless play to Messi's strengths, says Mascherano, as "He is always able to come up with something different in a millisecond. Clearly it's best if Leo has a team behind him backing him up and helping him.
"We have to open up the supply lines to him in the final 30 metres and give him options, get the ball through to him.
"Then he can produce that change of rhythm that he does so superbly and derive an advantage from that," said Mascherano.
The Copa hosts were hit hard by their demoralising loss in the World Cup to Germany last summer, which brought the curtain down on Diego Maradona's reign and saw 1986 world champion Sergio Batista ushered into the hotseat.
Mascherano says the whole squad are now champing at the bit to show they have moved on.
"It's a long time since we won a title. We want to win the Copa to recover our mystique and reaffirm our footballing philosophy," added Mascherano, noting that a win would give Argentina a place at the 2013 Confederations Cup.
He pinpointed an "explosive" attack as the squad's chief weapon for the month ahead.
"Argentina are a world force in the game. All our strikers are starring in the world's top leagues. And individually we are very strong."