LA PLATA, Argentina, July 23, 2011 (AFP) - Paolo Guerrero scored a second-half hat-trick as Peru took third place at the Copa America with a 4-1 win over Venezuela on Saturday.
Hamburg striker Guerrero was involved in the opener as William Chiroque fired home three minutes from the break before ripping their opponents to pieces in the second-half, helped by the sending off of Venezuelan midfielder Tomas Rincon for fouling Carlos Lobaton.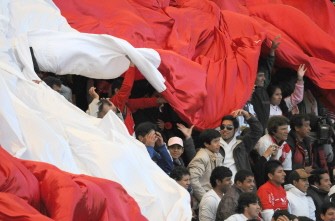 AFP - Peruvian fans celebrate at the end of the third-place match against Venezuela of the 2011 Copa America football tournament
It was Rincon's second red of the tournament and marked the beginning of the end for a tiring side.
Guerrero drove in his second goal just after the hour mark and, after Juan Arango had briefly threatened a comeback by making it 2-1 in the 78th minute, Guerrero turned the screw with two further efforts in time added on.
First he worked himself some space before driving across goal into the corner, then escaped his marker and poked under advancing keeper Renny Vega to round out the biggest win of the tournament.
"We are happy to have clinched third place. We all fought hard for this and we knew we had a match like this in us," said Guerrero as Peru showed that under coach Sergio Markarian they have improved vastly from the side which ended the last World Cup qualifying tournament bottom of their group.
Guerrero's goals took him top of the scoring charts at the event with a total of five.
But he said that personal achievement was secondary to a win which left Peru on the podium for the first time in 28 years.
"I work for the team - they are the most important for me," he said.
"We were disappointed to lose to Uruguay (in the semi-finals) as we could have done better - but third place is something."
Markarian said that coming third would encourage Peruvians to forget their dreadful last World Cup qualifying campaign.
"We have done some good work but we have won nothing yet and we must be more competitive as the qualifiers are a very different kettle of fish," Markarian, a Uruguayan, told reporters.
Venezuela coach Cesar Farias was sanguine after his team finally ran out of puff having matched Brazil in the first phase and then put out fancied Chile to reach their first ever semi-final before a shootout loss to Paraguay.
"We hoped to give a better account of ourselves," Farias said.
"Peru are a great side, but they had a day more to prepare for the game than us and today we made more mistakes than we had made in the whole of the rest of the Copa.
"We didn't really show what we were made of today. But I can't criticise the guys. It was tough to focus on a game such as this," he added, in reference to the bitter disappointment of not getting to the trophy match.