ZURICH, July 23, 2011 (AFP) - Asian football supremo Mohamed bin Hammam was on Saturday banned from the game for life after being found guilty of corruption following a two-day hearing of FIFA's ethics committee.
The 62-year-old Qatari, the president of the Asian Football Confederation (AFC), had been accused of trying to buy votes in the FIFA presidential election with $40,000 cash gifts to Caribbean football officials.
"The official Mr Bin Hammam is hereby banned from taking part in any kind of football-related activity at national or international level for life," announced ethics committee deputy chairman Petrus Damaseb.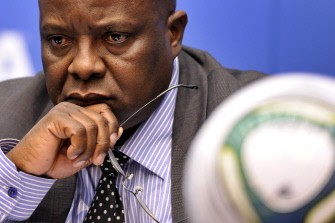 AFP - Deputy chairman of the FIFA Ethics Committee Petrus Damaseb gestures during a press conference following the hearing of Mohamed bin Hammam over bribery allegations at the football's world governing body FIFA Headquarters on July 23, 2011 in Zurich.
Bin Hammam did not attend the hearing, which took place behind closed doors at FIFA headquarters in Zurich, but the head of his legal team, Eugene Gulland, read out a statement from him after the verdict was announced.
"Mr Bin Hammam rejects the findings of the FIFA ethics committee hearing and maintains his innocence," said Gulland. "He will continue to fight his case through the legal routes that are open to him.
"He has gone on record and he maintains that the FIFA ethics committee was going to find against him whatever the validity of the case that he presented to them.
"The FIFA ethics committee has apparently based its decision on so-called 'circumstantial evidence', which our case has clearly demonstrated was bogus and founded on lies told by senior FIFA officials."
Whistle-blowers said Bin Hammam tried to bribe officials to vote for him by distributing cash-stuffed envelopes during a Caribbean Football Union (CFU) meeting in Port of Spain, Trinidad and Tobago, on May 10-11.
CFU officials Debbie Minguell and Jason Sylvester, also being investigated by the ethics committee over claims they helped hand out the money, were each banned from football-related activity for a year.
In addition, Damaseb revealed that the committee had rejected an accusation of racial discrimination made by CFU members against CONCACAF general secretary Chuck Blazer, who sparked the initial investigation into the bribery claims.
However, Blazer was warned by the ethics committee over comments made at a CONCACAF meeting on May 30 that certain CFU members were "under investigation", which FIFA said was "not true".
Former FIFA vice-president and CONCACAF president Jack Warner was also charged over his alleged role in the affair, but his resignation from FIFA last month prompted the organisation to drop all the charges against him.
Damaseb admitted that Warner's absence from the proceedings was a matter of regret.
"Mr Jack Warner chose to resign and by that action he placed himself beyond the jurisdiction of this committee," said Damaseb.
"Everyone would have wanted him to appear and face the charges and explain his conduct, but he chose not to do that."
Damaseb also said that the evidence reviewed by the committee during the hearing had yielded grounds for investigations into the conduct of other parties, but he did not reveal who they were.
Bin Hammam's withdrawal from the presidential election gifted a fourth straight term in office to his former ally Sepp Blatter, who made cleaning up FIFA's tarnished image a post-election priority.
A key figure in Qatar's stunning victory in the contest to host the 2022 World Cup, Bin Hammam had previously dismissed the charges against him as "politically motivated".
Writing on his personal blog on Friday, he pledged to seek justice "through the FIFA Ethics Committee, the Court of Arbitration for Sport or, if necessary, through other courts or legal proceedings".