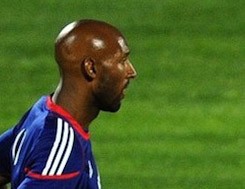 Anelka
PARIS, Aug 5, 2010 (AFP) - Nicolas Anelka is taking legal action against L'Equipe over a report it ran during the World Cup about the France striker's half-time outburst against the team coach, the French sports daily confirmed on Thursday.
Anelka's verbal tirade against Raymond Domenech at half-time of their match against Mexico was splashed across the front page of L'Equipe's June 19 edition.
However Anelka disputes that he used the same words and is suing the paper for defamation.
"He is challenging the quote used in one of our editions. He has issued a writ claiming defamation," the newspaper wrote on Thursday. "L'Equipe stands by its version and will keep its reasons for the court."
The outburst occurred at the break in the Mexico game -- when the game was still goalless -- when Domenech asked the Chelsea striker to change the way he was playing.
"When the coach in the dressing room against Mexico told me to stay up front, it went straight to my brain," Anelka told France Soir on Wednesday.
"I told myself that he was doing this on purpose, that he was looking for a guy to take the fall instead of him.
"I muttered in my corner some things that will remain in the secrecy of the dressing room. And which ought to stay there. But in no way are these the words that I read in L'Equipe."
France went on to lose the match 2-0.
When the news of the dressing room bust-up broke two days after the game, Anelka was sent home from South Africa by the French federation, prompting a one-day strike by the remainder of the squad.
France lost their final game 2-1 to South Africa to finish bottom of their group.