LONDON, May 19, 2010 (AFP) - England will win the World Cup this summer after overcoming their traditional Achilles heel to beat Spain on penalties in the final, according to "lighthearted" analysis by JP Morgan on Wednesday.
The US bank's number crunchers have applied complex quantitative analysis -- more normally used to assess investment opportunities -- to the 32 teams in the tournament in South Africa, which kicks off on June 11.
JP Morgan says Brazil are the strongest team but predicts they will crash out to the Netherlands after a penalty shootout in the quarter-finals.
The model sees Wayne Rooney's England knocking out the Dutch in the semi-finals before conquering Spain in the final, winning in a penalty shootout -- the method which has so often been their downfall.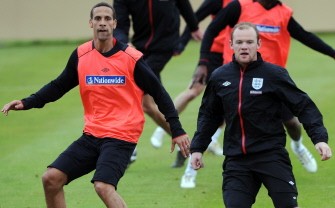 England footballers Rio Ferdinand (L) and Wayne Rooney take part in a training session of the English national football team in Irdning, Austria on May 19, 2010 (AFP photo)
While England's predicted victory may not be too far-fetched, even the most ardent fans of minnows Slovenia will have trouble believing JP Morgan's prediction that they will reach the semi-finals before losing to Spain.
The model, set out in a 69-page report, uses the straightforward bookmakers' odds and FIFA rankings and measures factors such as price trends and investors' sentiment.
The two analysts who came up with the model, Matthew Burgess and Marco Dion, said it was just "an ideal opportunity to light-heartedly explain quantitative techniques".
But Spain, the bookmakers' favourites, can probably take the findings with a pinch of salt -- quantitative analysis was widely criticised for failing to predict the financial crisis.