JOHANNESBURG, May 27, 2010 (AFP) - South Africa, which has long sought to reassure visitors about its crime rate, is now soothing concerns about the risk of terror attacks during the football World Cup, just two weeks away.
Normally South Africa is far off the radar for international extremist groups, but the magnitude of the World Cup makes the country a possible target, experts warn.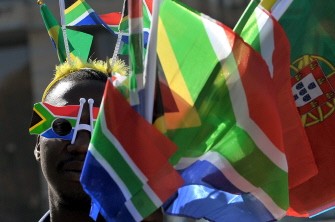 This photo taken on May 14, 2010 shows a street vendor in Johannesburg wearing the South African flag sun glasses and selling flags of the 32 countries taking part in the FIFA World Cup hosted by South Africa. AFP photo
Last week, Iraqi officials announced the arrest of a Saudi man who a security official said had participated in the planning of a terrorist act during the World Cup.
Al-Qaeda's front group in Iraq has denied any plot against the tournament, which kicks off on June 11. South Africa has repeatedly promised a safe tournament, and FIFA insists no credible threats have been received.
"Anytime a threat was coming, we checked and there was nothing very strong," FIFA secretary general Jerome Valcke said Wednesday.
"I think all these threats are just people trying to get some spotlight on them because the world is watching South Africa now for the next 40 days."
But the Netherlands said it received intelligence reports of "a threat against Dutch interests in South Africa" and amended its travel alert to urge heightened caution during the World Cup.
The Danish embassy in Pretoria said its security officials were working closely with their South African counterparts to address any threat.
Internally, members of a white separatist group have been charged with terrorism, after threatening to attack black neighbourhoods during the World Cup.
They are out on bail.
Anneli Botha, analyst at the Institute for Security Studies (ISS) said although South Africa has successfully hosted a number of major sporting events, the FIFA World Cup was different.
"South Africa is not on the same level of alertness towards terrorism than countries in other parts of the world," said Botha.
"Being part of the international community places the country in a different threat category than it is normally used to," said Botha.
South Africa has trained and deployed 44,000 police specifically for the event in host cities, and has had to meet FIFA's stringent security requirements.
With 50 killings a day, crime in South Africa has always been a major worry, even though most criminal violence is confined to shantytowns, usually on the distant perimeters of cities.
But the risk of violence came to the fore in January during the Africa Cup of Nations in Angola, where a bus carrying a Togo squad was shot by separatist rebels.
Botha says the Togo attack was an example of how major events are used to draw attention to forgotten causes by extremist groups.
Last week a newspaper cartoon, depicting Prophet Mohammed on a therapist's couch, angered the local Muslim community, raising fears of protests during the World Cup.
The newspaper was flooded by threats from readers angered by the cartoon.
Police were sharing intelligence with their regional and international counterparts on security for the world's biggest tournament, including a database for hooligans.
"The terror threat facing the tournament revolves around the possibility that an Al-Qaeda aligned movement may use the tournament as a platform upon which to launch a massive strike against a Western target in South Africa," said Frans Cronje, an analyst at the South African Institute of Race Relations.
According to Cronje, South Africa's porous borders and easy access to forged identity documents leave the country at risk.
"It is relatively easy to obtain fraudulent documents to live and work in South Africa under an assumed name.
"It would provide little challenge to an Al-Qaeda cell to infiltrate any weaponry or personnel into the country ahead of the World Cup," said Cronje.