ZURICH, May 17, 2010 (AFP) - World football governing body FIFA confirmed on Monday that their ethics committee will probe alleged comments made by former Football Association (FA) chief Lord David Triesman about England's rival bidders for the 2018 and 2020 World Cups.
Lord Triesman quit as head of England's bid team for the 2018 World Cup on Sunday and also stepped down as president of the FA following claims he had accused Spain and Russia of bribery.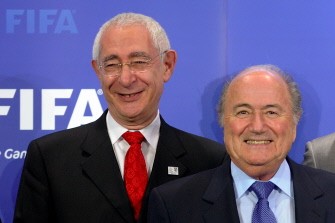 Lord Triesman (L) stands beside FIFA president Sepp Blatter (R) during the official handover of the England 2018 World Cup bid book ceremony at FIFA's headquarters on May 14, 2010 in Zurich. On May 16, 2010 Lord Triesman resigned as chairman of England's bid to host the 2018 World Cup. AFP photo
"FIFA can confirm that FIFA Secretary General Jerome Valcke has requested the FIFA Ethics Committee to examine the alleged statements made by Lord Triesman in relation to the bidding process for the 2018 and 2022 FIFA World Cups," FIFA said in a statement.
Triesman allegedly told a former aide that Spain were planning to bribe referees at this summer's World Cup and offer their support to Russia's bid for the 2022 World Cup if they were to help.
The England 2018 World Cup bid team faxed letters of apology to both associations, while FA board members David Sheepshanks and Roger Burden have been drafted in as acting joint chairmen of the national governing body.
However, FIFA are not yet satisfied by the FA action and have requested a report into the affair.
The FIFA statement continued: "In addition, FIFA has sent a letter to The Football Association asking The FA to provide a report on this matter, including Lord Triesman's position.
"FIFA will not make any further comment on this matter until it has been dealt with by the FIFA ethics committee."
The controversy comes just two days after Triesman, accompanied by David Beckham, handed over England's bid book for the 2018 World Cup to FIFA chief Sepp Blatter in Zurich.
England staged the World Cup for the first and only time in 1966, which was also the only occasion they had lifted the trophy.
The chief of Russia's bid, Aleksey Sorokin, has called for football's governing body to "take appropriate measures".