LIVERPOOL, United Kingdom, Sept 12, 2010 (AFP) - Sir Alex Ferguson warned his Manchester United stars not to be so wasteful after they squandered a series of chances to kill off Everton and were pegged back to 3-3 in a thrilling draw at Goodison Park.
Injury time goals from Tim Cahill and Mikel Arteta capped a remarkable recovery for David Moyes's side on Saturday after earlier strikes from Darren Fletcher, Nemanja Vidic and Dimitar Berbatov seemed to have secured the points for United.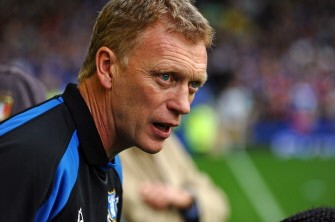 Everton's manager David Moyes looks on before the match between Everton and Manchester United at Goodison Park in Liverpool on Sep. 11. AFP
Everton had originally gone 1-0 up through Steven Pienaar before United hit back, but Ferguson's side were then stunned by the thrilling finish as United threw away victory.
Ferguson was disappointed with United's defending at the end, but he was more concerned with their failure to convert a host of chances to put the game to bed long before Everton's dramatic fightback.
"Football can do that to you but we have thrown it away, as simple as that," Ferguson said.
"We were too wasteful with chances and we had a chance to bury Everton but we didn't do that. We have just thrown it away, as simple as that.
"We played some good football at times and Berbatov was brilliant at times but it was all wasted because we have given two points away."
It didn't help that Ferguson decided to rest Wayne Rooney to avoid subjecting the former Everton striker to taunting from home fans after this week's lurid allegations about his private life.
Ferguson's decision not to pick the England star must have been warmly welcomed in the Everton dressing room as they looked to get their first win of the season.
The hosts looked full of energy in the first half and Pienaar deservedly gave them the lead, although two brilliant saves from Tim Howard proved that United could still attack when they wanted to.
Darren Fletcher's calm finish brought the equaliser for United just before the break and when firstly Vidic nodded home a Nani cross and Berbatov smashed past Howard, the game seemed to be over.
However, Everton sprung into life in injury time as Cahill headed past Edwin van der Sar before Arteta sealed the comeback as he rifled home from 16 yards with just seconds remaining.
Everton were not quite finished there though as they then charged up the field in desperate search of a winner but referee Martin Atkinson blew the final whistle before they could capitalise and it was this point that Moyes focused on afterwards.
"Whether the decision is right or not, people come to watch football," he said.
"People come to see football and not the referee. There were two goals in injury time so you would think there would be more than thirty extra seconds to add.
"Who as a supporter should not think that chance should have been allowed?
"People come to see excitement, it was an incredible decision not to let it progress but no doubt it was by the law. It was wrong for everybody and certainly me as Everton manager."
However, Moyes also acknowledged the hard work his players had shown in getting Everton back into the contest in the first place.
"We showed great character and it was a testament to the league as well because you just don't know how it will go," he added.
"It was an incredible game and we've had a few of them against Manchester United.
"I thought we played really well in the first half but they came back into the game and Tim made two wonderful saves.
"I thought our first goal was deserved but second half didn't go well and United got in front.
"But I didn't think we deserved to go 3-1 down either and I thought the players had done well enough to match them in most departments and I thought the players did great to keep going and come back and score."