MANCHESTER, United Kingdom, Aug 16, 2010 (AFP) - Sir Alex Ferguson insists keeping pace with Chelsea is Manchester United's main priority despite the Premier League season only being days old.
Champions Chelsea started the defence of their title with a 6-0 victory over West Brom on Saturday. And United followed that up two days later with a 3-0 win against Newcastle at Old Trafford.
Ferguson's side have already defeated Carlo Ancelotti's Chelsea in the Commnity Shield this month.
And the United manager is keen to stay in touch with the Blues in the league as he feels the Stamford Bridge side are once again the team to beat.
"I think we'll (both) be up there again," he said. "Chelsea are the team to beat and we're focusing on that. Chelsea didn't put us under pressure but we are happy with three goals.
"Goals could come into it at the end. Last year Chelsea were ahead by a landslide as far as goals were concerned but we've got goals in our team.
"The important thing was to win the game and play well."
Ferguson admitted to a concern over France defender Patrice Evra, who had to limp off against Newcastle with an ankle problem.
Evra was making his first appearance since the World Cup but was replaced in the closing stages.
Ferguson added: "He had a knock on the ankle because he went down the slope next to the pitch.
"We're sure he'll be ok. We brought Rafa on just to kill the game."
Mexico striker Javier Hernandez made his United debut but failed to impress in his half-hour appearance as Wayne Rooney's replacement.
But Ferguson is adamant that the striker will prove a success at Old Trafford.
He added: "I thought he was a little bit over-anxious. He was maybe a little bit nervous in front of the home crowd. He's only a young lad and you can see the qualities he has.
"His understanding of space is very good and he'll get goals ok."
United led at the break thanks to goals from Dimitar Berbatov and Darren Fletcher before Ryan Giggs added a third late on at Old Trafford.
Even though Chris Hughton's side started their campaign with a defeat, he insisted there was no reason to be too down-hearted.
The Magpies boss felt there were clear lessons to be learned but is adamant that the attitude that inspired their promotion from the Championship will not be dented.
Hughton said: "The two goals that disappoint me were the first goal and the last goal and that's typical United.
"We had possession in that period before the first goal and on the turnover they're so clinical, within seven seconds the ball is in the back of the net and if there's a quick lesson in this division is the quality but we won't be up against Manchester United in every game.
"We do have spirit and we were able to build on that last season. We want to take that momentum into this season.
"We were a strong team in that division and we know there are other games we need to get our points from but we need to maintain the spirit of last season."
Hughton also admitted there was little that Newcastle could do about veteran United midfielder Paul Scholes, who provided assists for two of the goals and was in majestic form.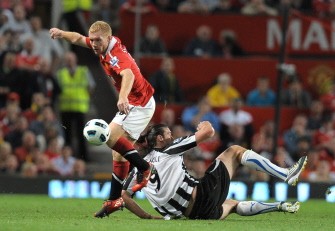 Paul Scholes (L) avoids a tackle from Newcastle United's Andy Carroll during the football match at Old Trafford on August 16, 2010. AFP PHOTO
He added: "The problems with facing up against a player like Paul Scholes is that it's not just about him.
"If you attempt to mark him man for man other players can benefit from that. As a team you have to try to keep a good shape and good discipline."