MANCHESTER, England, May 8, 2010 (AFP) - Sir Alex Ferguson has told his Manchester United stars they must be ready to take advantage if Wigan shock leaders Chelsea on a dramatic final day of the Premier League season.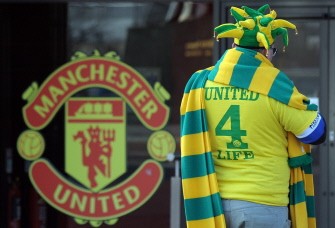 AFP photo
Ferguson's team host Stoke at Old Trafford and lowly Wigan visit Stamford Bridge on Sunday, with only a United victory, coupled with a draw or win for the Latics at Chelsea, enough for United to retain the title.
United are no strangers to last-day drama, having been in the situation four times during Ferguson's reign, emerging successfully on three of those occasions.
Ferguson believes his players' experience of such high-stakes occasions should guarantee they see off Stoke and he expects Wigan to give everything against Chelsea.
"I have confidence Wigan will do their best and try," Ferguson said. "I say that without any fear at all. I know they will try.
"We've been here before, that's the important thing. It's the fifth time we have gone into the last game (playing for the title) and we can only do our jobs. We can't expect any favours from Chelsea.
"In a way, that helps us because we can express ourselves, like we did last Sunday at Sunderland.
"We knew the (Chelsea) result from earlier but the players were terrific, they expressed themselves and enjoyed themselves and we should have won more comfortably than we did.
"There's pressure on both of us because both need to win but I'm pleased with the way we've gone about the last couple of games.
"The Tottenham and Sunderland games we played without nerves and that's good. At this time of the season that's quite unusual but it's probably to do with the experience we have. We've been here before and it has not affected us."
Ferguson also concedes that it will be impossible to ignore events at Stamford Bridge on Sunday, with plenty of sources of information feeding latest updates from their rivals.
"It's inevitable," he said. "TV people are in front of you, people at the side of you, crowd reactions sometimes tell you.
"Sometimes it's false, they try to boost the team by cheering when there's nothing really happening in the other game. But I've the experience of these things we've been here before."
Ultimately, United appear doomed to fall one point short of Carlo Ancelotti's side, leaving Ferguson to rue missed opportunities to pull clear of the Blues.
"Well, you can agonise whichever way you want to and it doesn't do you any good," he said.
"The one thing you're sure of at the start of the season is that you're going to drop points.
"We lost the first away game to Burnley. We didn't beat Aston Villa, you can go on and on and on. The refereeing decision against Chelsea influenced the destiny of the title, I think.
"You can agonise on these things but it doesn't do any good. At the end of the day we're a point behind Chelsea.
"But I think we always play to our maximum. We scored more goals than last season we have the best defensive record in the league."
Stoke manager Tony Pulis has guided his club to safety for the second successive season, bettering their points tally from last season in the process.
Pulis believes United can still win the title but he admits the loss of Cristiano Ronaldo and Carlos Tevez will be pivotal in the post-season inquest, should Chelsea emerge victorious.
He said: "I think where United have been a bit unfortunate, with Ronaldo and Tevez leaving, is with goals. And people tend to forget Michael Owen's got injured as well. I still think a fit Owen would have helped the cause as well.
"United have still got to do their job but it's in Chelsea's hands. United and Chelsea have been the two outstanding teams again this year.
"Whoever picks up that extra point up on Sunday - if Chelsea get one more, they'll deserve it. They've been neck and neck all season so they're there on merit."