LONDON, Aug 23, 2010 (AFP) - Sir Alex Ferguson conceded Manchester United could live to regret their frustrating 2-2 draw against Fulham at Craven Cottage.
Nani's late penalty miss denied Ferguson's side the opportunity to establish a 3-1 lead with six minutes remaining and was punished when Fulham defender Brede Hangeland headed home an equaliser in the 89th minute.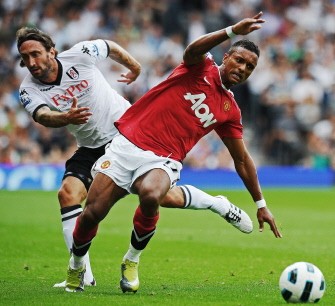 Nani (R) and Fulham's Johnathan Greening (L) vie during their Premiership match at home to Fulham at Craven Cottage football stadium, London on August 22, 2010. AFP
United manager Ferguson admitted his side hardly deserved to claim all three points after failing to build on Paul Scholes's low drive that gave the visitors a 12th minute lead and paid credit to Fulham's resilience in fighting back.
But Ferguson believes Nani's penalty, which was saved by Fulham keeper David Stockdale, proved to be the turning point and expressed his surprise the Portugal winger had taken the kick when Ryan Giggs was on the pitch.
And, with Chelsea already in fine form after winning their first two matches 6-0, Ferguson knows losing touch with the champions at this early stage could be costly.
"You don't want to be dropping silly points and we dropped silly points here," he said.
"We can't escape that. There was an opportunity to go 3-1 ahead with three minutes left and we didn't take it.
"I don't think we deserved to be in front at 2-1 but when you get the opportunity to seal the game with that penalty you should be taking it.
"It was a missed opportunity I feel and it galvanised them, got the crowd up and they scored the equaliser in the end. In fairness to them they were the better team in the second half.
"When we got that second goal I thought we've escaped here. To miss a penalty kick to make it 3-1, you're throwing two points away there I'm afraid.
"I thought Ryan should have taken it. In the last game we played against Tottenham at home Ryan scored two penalty kicks and Nani was on the pitch the same day."
Wayne Rooney missed the game because of illness but Ferguson expects the England striker to return next week when West Ham visit Old Trafford.
"Wayne has a virus," he said. "The problem is he turned up on Saturday with it and he had no chance in 24 hours.
"If it has been a Thursday or Friday we may have been able to patch him up. Sometimes these viruses are 24 hour things and that could have been the case but there was no attempt to see if he could recover from this."
In Rooney's absence, Javier Hernandez was partnered with Dimitar Berbatov and the United manager believes the Mexican will make a bigger impact when his team-mates familiarise themselves with his style of play.
Ferguson said: "Javier was bright and had two great strikes in the first half. He threatened with his pace and we have used his pace a bit better.
"There were moments when we could have threaded a pass through but took the option of passing out wide. We'll have to use that part of him more."
Stockdale's penalty save capped an excellent all round performance from the reserve keeper who was once again included after regular number one Mark Schwarzer was ruled out because of injury.
Schwarzer remains a target for Arsenal, although the Gunners failure to increase their initial two million pounds offer for the Australian when they lodged a second bid for the player last week incensed the Craven Cottage club.
Fulham manager Mark Hughes insists Schwarzer's departure is by no means assured.
"It's not a foregone conclusion," Hughes said."The boy's not fit at the moment. He trained on Saturday, went out with the physios and felt discomfort, so he was never an option.
"We're all aware of Arsenal's interest. He's an outstanding goalkeeper and they obviously feel they have an issue with their goalkeeper.
"I just want to protect my football club and make sure that we don't weaken or lessen our squad with any departures."