NEW YORK, Sept 13, 2010 (AFP) - Roger Federer is still widely regarded as being the best player of all time, but if the US Open is anything to go by, he may not remain so for much longer.
Rafael Nadal's sweeping title win in New York on Monday has re-opened the debate, just over a year after Federer assumed the best-ever mantle with back-to-back wins at the French Open and Wimbledon.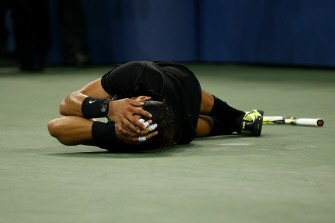 Nadal rolls on the ground in celebration of his win over Novak Djokovic of Serbia during their men's singles final of the US Open on Sep. 13 (AFP)
The win in Paris completed Federer's Grand Slam set while his triumph in London a few weeks later took him past the career record mark of 14 titles that Pete Sampras had set in 2002.
Federer then won the Australian Open in January to make it 16, but at 29 he is entering the veteran stage.
Nadal's win in New York made him the seventh man to win all four Grand Slam titles and he now has a total of nine. At just 24, he is in the prime of his career and is expected to win more.
The question is how many more.
Asked after his 6-4, 5-7, 6-4, 6-2 win over Novak Djokovic in Monday's final, Nadal, true to form, was reticient to say anything that could be interpreted as disrespectful of Federer.
"I think talk about if I am better or worse than Roger is stupid, because the titles say he's much better than me, so that's true at that moment. I think will be the true all my life," he said.
"For me, always, always Roger was an example, especially because he improved his tennis I think during all his career, and that's a good thing that you can copy, no?
"So I try to copy this, and I know Roger and me are different, much different styles. Being better than Roger I don't think it is the right moment to talk about that, because I don't think that."
For his part, Federer, who will drop to third in the world after his five-set semi-final loss in New York to Djokovic, is adamant that he is far from being a spent force at the Grand Slam level.
"It's normal, because you can't go through a 10- or 15- year career thinking you'll always be at the very top. I think I did incredible work staying so long in the top 2 in the world," he said.
"I think I'm doing really well under the circumstances with as many challengers.
"I got a few guys back who were able to beat me, and many times when I lose I feel like it's on my racquet.
"That's a good thing, you know. I wouldn't want to feel the way that I couldn't compete with the new generation, but I can. It's not a problem for me."
Perhaps the best-placed person to assess the situation is Djokovic, who has played them both many times over the last few years, culminating in his back-to-back matches with them in New York.
Asked to pass judgement shortly after his loss in the final to Nadal, he said: "We cannot judge who is better on one tournament.
"At this point there is five, six years' difference between them, and basically Federer had more years on the tour, he had more success; he has more trophies.
"He's definitely somebody who made history in this sport. He's still playing as one of the best players in the world.
"The other hand, you have Nadal who is just proving each day, each year that he's getting better. That's what's so frustrating, a little bit. He's getting better each time you play him.
"He's so mentally strong and dedicated to this sport. You know, he has all the capabilities, everything he needs, in order to be the biggest ever, my opinion.
"He has lots of time to come if he physically holds on the next five, six, seven years."