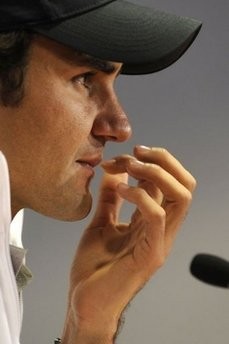 Roger Federer, seen speaking to reporters in Madrid, said he will not panic should he fail to defend his Madrid Masters title this week. AFP photo
MADRID (AFP) – World number one Roger Federer will not panic should he fail to defend his Madrid Masters title this week, indeed he said on Monday he is prepared for anything as he prepares to retain his French Open crown later this month.
"It would be great to win here again if I could. I can get confidence on the practise courts," Federer said.
"For me, the Madrid title in 2009 was the key to Paris. Winning the event by beating fellow rivals was very important. But no matter what happens here, I'll be prepared for Paris.
"But if I had the choice I'd prefer to do well here again."
A year ago, Federer turned in one of his best ever series of performances on clay, beating Rafael Nadal for the title in the Spanish capital and carrying on three weeks later to lift a career-first French Open crown.
So far this clay campaign, it's not gone as smoothly for the world number one, who lost in his opening Rome match and went down surprisingly in Estoril last Saturday in the semi-finals to eventual winner Alberto Montanes.
The Swiss has a first-round bye in Madrid, where the altitude and slightly faster pace of the ball should help his cause.
"I'm doing well in training, I'm only lacking a bit of match time. I'm hitting the ball cleanly, but maybe not as clean as I did to win in Australia though.
"But it (form) is not far away. I"m doing the right things and I'm not worried. I really hope to do well here."
Federer said he would take stock of the situation once Madrid was over.
"I'm not speculating on how I'll do here, but I have confidence I can do well. As the holder, I have high hopes.
"Once I'm done in Madrid, I'll look at the game plan and see what has to be done. Either way, I'll have enough time to get ready for Paris.
"I know what it takes to perform well there."
In first round play, French 12th seed Gael Monfils overcame the stomach virus which knocked him out before his start in Estoril, going past compatriot Stephane Robert 6-2, 7-5.
In the women's tournament, struggling Serena Williams needed almost three-and-a-half hours to avoid an upset defeat by Vera Dushevina, with the top seed scratching out a 6-7 (2/7), 7-6 (7/5), 7-6 (7/5) victory to reach the third round..
The winner had to save a Dushevina match point at 5-6 in the second set to prolong the marathon.
Williams, playing only her second event since winning the Australian Open more than three months ago, went off court for a lengthy injury treatment session in the final set.
The interruption didn't appear to bother the 43rd-ranked Dushevina, who promptly came back from a break in the sixth game and made up a 2-4 gap with a break of the patchy Williams for 4-5.
The set went into a deciding tiebreaker, with Williams coming back from 0-3 down. Closing out the contest was still agony, with the American badly blowing a first match point and screaming as if she had won a grand slam when she finally clinched the win.
Both women broke five times from 14 opportunities, with Williams making a difference with nine aces.
"I definitely feel really proud, I wasn't playing my best tennis. I was far off from playing well," said the American.
"After three hours I was determined to win.
"I just plan to play better, and do better. I was a little off today, but it's all about looking to the future."