BUENOS AIRES, July 25, 2011 (AFP) - The kindest thing fans could say about Argentina and Brazil after this year's Copa America ended in a 3-0 romp for Uruguay in the final against Paraguay would be that both South American giants remain a work in progress.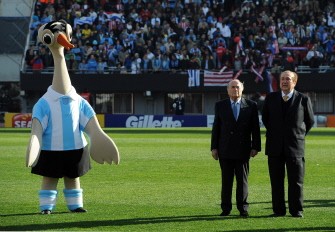 AFP - FIFA's President Sepp Blatter(2R) and CONMEBOL's President Nicolas Leoz are seen next to Suri, the Copa America's mascot, before the final of 2011 Copa America
A little fine-tuning and smoothing a few rough edges and a sleek new model will be revealed at the 2014 World Cup, the true 'holy' grail for both countries, so the theory goes, while the Uruguayans bask in the glory of a record 15th title.
In practice, life is not so simple, as Mano Menezes, coach of 2014 hosts Brazil, knows only too well after a tournament where the giants were cut down to size and where Venezuela, the continent's only team never to reach a World Cup, reached the semis for the first time.
"I think we're on the right track. I have said throughout the goal is to be competitive for 2014," insisted Menezes, who can expect to be in the dugout in three years time - which is more than can be said for Argentinian counterpart Sergio Batista.
Batista on Monday faced a vote of confidence from his Federation amid speculation he will be fired after his team's Copa exit in the quarter-finals to the Uruguayans on penalties.
A major chief criticism levelled at Batista is that he is not sure of his best line-up.
He rejects that.
"I am sure of my footballing ideas. I always said the Copa was all about getting ready for the World Cup in 2014.
"I am absolutely resolved to keep going."
Most media agree he won't get the chance after he insisted on starting with Carlos Tevez in attack with Lionel Messi in a 'false number nine' role.
That backfired in laboured draws with Bolivia and Colombia and Messi only sparked when dropping back to feed Tevez replacement Sergio Aguero in a much better showing against little Costa Rica.
Tevez sneaked back as a substitute against Uruguay and promptly missed the crucial spotkick that sent the hosts out, wrecking their bid to land a 15th Copa of their own and prolonging a trophyless run stretching back to 1993.
In vain did Batista protest that penalties are a lottery anyway.
Brazil amply proved as much, managing to convert zero kicks in their quarter-final loss to a Paraguay side which found it impossible to win or lose, drawing all their group games - after first letting the Brazilians off the hook, then allowing Venezuela to recover from 3-1 down.
After denying Menezes's side a hattrick of wins in the competition following 2004 and 2007 wins over Argentina, the Paraguayans were at it again as they walked a tightrope against Cesar Farias' impressive Venezuelans.
The former minnows hit the woodwork three times and had a goal ruled out but again the Paraguayans were too good from the spot.
So to the Uruguayans, who can be proud of their achievement in landing their record success and a first major trophy since 1995.
That win aside, the remainder of the Charruas' glory days are sepia-tinted, going all the way back to their 1916 triumph in the inaugural Copa, before they lifted the first World Cup in 1930 and then shocked Brazil in 1950.
Not a bad haul for a country whose 3.8 million population would comfortably fit into London, never mind Sao Paolo or Buenos Aires.
Draws with Peru and Chile constituted a slow start but the celeste then edged Mexico before Buenos Aires-born goalkeeper Fernando Muslera thwarted Tevez to book a semis berth.
"This means nothing when it comes to World Cup qualifiers," warned coach Oscar Tabarez. Brazil, as hosts, are pre-qualified.
Venezuela thrilled neutrals in knocking out four-times finalists Chile - to the delight of Venezuelan President Hugo Chavez, who sent countless Twitter posts eulogising his team.
In the semis, Luis Suarez netted a double as Uruguay saw off Peru while Paraguay made the unfortunate Venezuelans pay the penalty.
A Paolo Guerrero treble saw Peru see off the Venezuelans for their first podium finish since 1983 as the Hamburg striker ended top scorer with five goals.
In the last World Cup qualifiers, Argentina and Uruguay both struggled to earn a place in the finals in South Africa.
Now the big boys must look over their shoulders at a renascent Peru and Venezuelans who are no longer only interested in baseball.
"They are a new force in the game in Latin America," warned Peru coach Serio Markarian.