BELGRADE, Sept 29, 2010 (AFP) - Arsenal fans may need some convincing but manager Arsene Wenger was adamant Lukasz Fabianski could become a "great keeper" after the Pole's impressive display in the Champions League victory away to Partizan Belgrade.
The Gunners ran out 3-1 winners here on Tuesday against a Partizan side reduced to 10 men early in the second-half by Marko Jovanic's red card.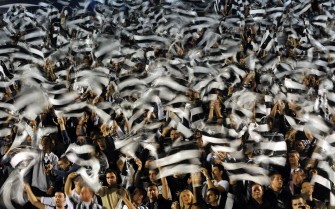 Partizan Belgrade fans wave their team's flag during a Champions League match against Arsenal at the Partizan Stadium in Belgrade on September 28, 2010. AFP
But the final result might have been different had not Fabianski -- deputising for the injured and equally criticised Manuel Almunia -- not saved a Cleo penalty late on and then turned away Ivica Iliev's stoppage-time shot.
As it was Andrey Arshavin's early goal, cancelled out by a Cleo penalty following Denilson's handball, plus further goals from Marouane Chamakh and Sebastien Squillaci saw Arsenal make it two Champions League wins out of two this season following their 6-0 rout of Braga.
Arsenal tried to sign Australia keeper Mark Schwarzer from London rivals Fulham during the transfer window and the supposed lack of a 'top' No 1 has long been a source of worry to Gunners' fans.
But Wenger said Fabianski's form in the Serbian capital came as no surprise to him.
"Fabianski had a good game, we have seen the player tonight who we see in training. He had a faultless game," said Wenger.
"I know it is in him. He got it out in the game tonight and hopefully that will give him the belief and confidence he needs."
The Frenchman added: "I am confident he will come out as a great keeper, I have always said that.
"We have to keep confidence in him and he needs to gain experience from games like this."
Now Fabianski could be between the posts for Sunday's all-London match away to Premier League leaders and title-holders Chelsea.
"At the moment Almunia is injured, we will have to see how his injury goes, but at the moment it is too early to say."
Wenger was delighted by a win which came hot on the heels of Arsenal's shock loss to West Brom in the Premier League -- a result which helped leave them four points behind Chelsea.
"For us it was important to win straight away after a big disappointment against West Brom.
"It puts us in a good position confidence-wise, Sunday is a big, big game for us."
Partizan have lost both their opening two Champions League matches this season and their group stage looks like boiling down to a battle with Braga for a Europa League place.
Alexandar Stanojevic, the Partizan coach, said: "When we got the red card it was difficult because it is tough enough to play against Arsenal when you have 11, but when you have 10, it is nearly impossible.
"We have to admit, though, Arsenal were a better team, so we have to go on."