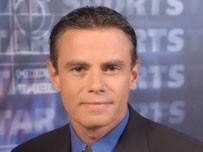 Andrew Leci
Commentator Andrew Leci from channels ESPN and Star Sports has arrived in Ho Chi Minh City for the first time to cover two Sunday (May 10) English Premier League matches.
He was scheduled to comment for the Manchester United vs. Manchester City match at Old Trafford, at 7:30 pm (Vietnam time) and the Arsenal vs. Chelsea game at Emirates Stadium at 10pm. Both games will be broadcast live on ESPN.
Rieu Ca Restaurant at 3A Ton Duc Thang Street, District 1, HCM City is the venue for this Leci show, which is sponsored by Nokia and Tiger Beer, sponsors of the English Premier League.
The event organizers said they expect to bring about an exciting night fans in the city. Attendees will have a chance to participate in games and win prizes.