German Bundesliga club Eintracht Frankfurt defeated Vietnam's national squad 2-0 in a friendly game at My Dinh National Stadium in Hanoi on Wednesday night.

The match was part of part of the Vietnam Football Federation's plans to celebrate the 1,000th anniversary of Hanoi in October and the 35th anniversary of diplomatic relations between Vietnam and Germany.
Both teams played an open game to bring to the crowd lots of football frenzy moments.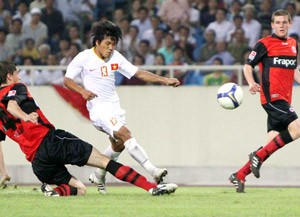 Vietnam striker Le Quang Hai (C) challenged by an Eintracht Frankfurt defender during a friendly between Vietnam and the German club at My Dinh Stadium, Hanoi on May 12, 2010. Frankfurt won 2-0. (Photo: SGGP)
The German club, who finished 10th in this season's Bundesliga last week, showed to be at a higher level. Their players included Frankfurt's top scorer Alexander Meier, international Halil Altintop, and Brazilians Chis and Caio.
The visiting side started the game with more attacks and they possessed the ball more than the home side in the middle area. Both teams created chances in the first half but none were converted. Notably, Meier set up three chances but his teammates did not succeed. Just before the break, Vietnam striker Le Quang Hai challenged goalkeeper Oka Nikolov with a free kick but the goalie denied.
The beginning of the second half saw Vietnam play more aggressively. Gradually Frankfurt took back control. However, striker Pham Thanh Luong made local fans leap to their feet in the 56th minute but his shot was wide.
Meier fired the opening goal in the 71st minute and Altintop widened the gap two minutes later.
The home side tried even harder to approach the Frankfurt goal but failed to narrow the gap.
Eintracht Frankfurt are to fly to Ho Chi Minh City Thursday to play Vietnamese League club Dong Tam Long An in another friendly at Thong Nhat Stadium on Friday. They will fly back to Germany after the game.