LONDON, May 16, 2010 (AFP) - Didier Drogba insists Chelsea's Premier League and FA Cup double triumph means this season has been the best of his career.
Drogba scored the only goal of the game in Saturday's FA Cup final against Portsmouth to secure a first ever double for the west London club.
Drogba's goal was his 37th of the campaign in all competitions and came six days after his hat-trick helped Chelsea clinch the league title with an 8-0 victory over Wigan.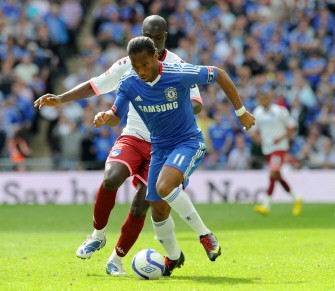 Chelsea's Didier Drogba (L) in action against Portsmouth during the FA Cup Final football match at Wembley on May 15, 2010. AFP PHOTO
That treble ensured the Ivory Coast international won the Golden Boot award after netting 29 league goals. And his winner in the 1-0 victory against Pompey was his sixth goal in six appearances at Wembley.
"This season is the best of my career because I have never won a double," Drogba said. "To be champions last week and now to win the FA Cup at Wembley, it is the stuff of dreams.
"This is the best one because we achieved so many things together as a team and after that trophies came, but really it is because as a team we were so good, I had a chance to be Golden Boot.
"It's something very important for the team and me as well. I had the chance again to score in that stadium again and I'm really happy because we won the double and this is something big in England.
"To be the first team to have done that for Chelsea is unbelievable."
Chelsea dominated the game with Drogba hitting the woodwork twice in the first half, while Frank Lampard, Salomon Kalou and John Terry suffered a similar fate.
Relegated Portsmouth started the game as rank outsiders but had a great chance to take control of the game when Kevin-Prince Boateng saw his penalty saved by Petr Cech.
"We knew it was going to be hard, we don't really think all the chances we created would hit the post or the crossbar but that's part of the game," added Drogba.
Now the forward is looking ahead to the World Cup where Ivory Coast face a daunting group that includes Brazil, Portugal and North Korea.
But Drogba believes Chelsea's success will provide him with the perfect springboard ahead of the finals in South Africa.
He said: "It's the best way to go to the World Cup and be confident - you know it's better to work with a big smile on the face than to be down."
Meanwhile, John Terry relished his role as the first Chelsea captain to hoist both league and cup trophies in the same season.
"To go down in the club's history, we're delighted," Terry said. "It's been a great season and this was just the icing on the cake.
"We were determined to win it with the incentive of going down in the club's history and we have done that.
"We hit the woodwork five or six times in the first half and we were unfortunate one of them didn't fall in.
"The message at half-time was just to keep it going and with the quality we have got it will open up and we will get a goal.
"With Didier and Frank Lampard, players who can create something from nothing, we knew we just had to keep doing what we were doing.
"We felt we were in control of the game, bossing the game, and they didn't really have too many chances."
Like Drogba, Terry is now looking forward to the World Cup and he is convinced Chelsea's success can benefit England.
"I think it's great," he added. "Normally there is a break of two to three weeks before we go off. But we are fresh, we have played a lot of games but it's important we keep doing it.
"We will meet up on Wednesday and we feel good, especially with the momentum of coming off the back of winning the Premier League and winning here."