NEW YORK, Sept 8, 2010 (AFP) - There's a buzz around the US Open about the possibility of Rafael Nadal and Roger Federer playing in Sunday's final at the only Grand Slam event where they have never met in the championship match.

World number one Nadal is trying to complete a career Slam sweep by winning his first title on the Flushing Meadows hardcourts. Federer wants to reclaim the throne he lost last year when his five-year reign was ended.
The rivalry is epic. The matchup would be magical. Even Serbian third seed Novak Djokovic can feel how much fans want it, although he will do everything in his power to prevent them from seeing it happen.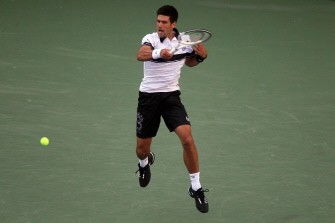 Djokovic hits a return against Gael Monfils of France during his men's singles quarterfinal match on September 8, 2010 in the Flushing neighborhood of the Queens borough of New York City. AFP
"As the two best players in the world, they are the most dominant in the last five or six years, biggest favorites to get into the finals, and I'm sure that the crowd wants them in the finals," Djokovic said.
"But I will try not to make that happen."
Djokovic booked a berth opposite Swiss second seed Federer in Saturday's US Open semi-finals by ousting French 17th seed Gael Monfils 7-6 (7/2), 6-1, 6-2 Wednesday while Federer beat Swedish fifth seed Robin Soderling 6-4, 6-4, 7-5.
Federer, a 16-time Grand Slam champion seeking his seventh US Open final in a row, and Nadal were the only players to reach the quarter-finals without dropping a set, the Spaniard making it without surrendering a service break.
"We've played in all the other majors (finals) so this one is missing. I hope we can do it this year," Federer said two days before the US Open began. "I think it would be great."
Nadal, an eight-time Grand Slam champion who faces eighth-seeded compatriot Fernando Verdasco in a Thursday quarter-final, told a US television audience that he is playing better than in US Open semi-final runs the past two years.
But Nadal also says he has to be better yet in order to lift a trophy on Sunday.
"I was in the semi-finals two times. I know how difficult it is," Nadal said. "I go day by day and go practice by practice. I improve every day but I have to improve a lot more if I want to win the tournament."
Nadal must still get past Verdasco and either Swiss Stanislas Wawarinka or Russian Mikhail Youzhny to reach the final, but Federer likes Nadal's chances.
"He's No. 1 seed so he's always going to be the favorite, but he's also playing against guys who have never won a Slam, never been in finals before, and so he's going to fancy his chances," Federer said.
"Plus he hasn't had the roughest of all trips into the quarters. Seems like he's playing real well. It's hard to say who's going beat him out of that section but then again, they didn't get there without playing well, either.
"The other guys will have their shot, but it's going to be tough."
That leaves Djokovic as the major spoiler to a Federer-Nadal final and the Serb star likes his odds against Federer more than ever now.
"Just maybe experience-wise in my case I feel better now," Djokovic said. "Physically I feel better than I did last year. I feel stronger, faster on the court."
Djokovic, whose only Slam title came at the 2008 Australian Open, joined Federer, Jimmy Connors, Ivan Lendl and John McEnroe as the only men to reach the US Open semi-finals four years in a row since the Open Era began in 1968.
Federer has a 10-5 career record against Djokovic, including victories in the 2007 US Open final and 2008 and 2009 US Open semis.
"I lost to Federer the last three years that we played here but every year I tried to go out on the court with positive attitude," Djokovic said. "He's a great champion, great player. But you never know what's going to happen.
"I don't want to think about those losses in the last three years, which were really, really close in all those matches. I'm feeling quite comfortable on the court and hopefully I can continue on."
Nadal said he is more in control on the red clay of Paris, where he has claimed five Grand Slam titles, than in New York, but that if he can reach the last four, he has the skill it takes to capture the crown.
"Here you have to be a little more lucky in some moments if you have real chances to win," Nadal said.
"When you are in semi-final, you are only two matches away. So why not? The most difficult thing is to play well in the most difficult moments. For sure I have to play my best tennis."