LONDON, July 4, 2011 (AFP) - Novak Djokovic, Rafael Nadal and Roger Federer are the three kings of men's tennis in a golden age.
Now the challenge for their flagging rivals is trying to chip away at their dominance.
Djokovic's first Wimbledon title on Sunday meant that 28 of the last 31 Grand Slam crowns have been shared between the Serb, who has three majors, Federer, who has won 15 of his record 16 since 2004, and Nadal with 10.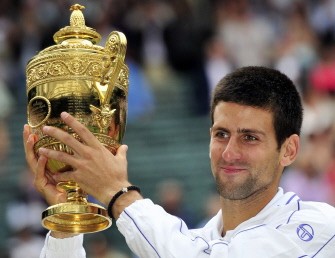 AFP - Novak Djokovic holds the trophy after beating Spanish player Rafael Nadal in the men's single final at the Wimbledon Tennis Championships on July 3, 2011.
Since the start of 2004, only Gaston Gaudio (2004 French Open), Marat Safin (2005 Australian Open) and Juan Martin del Potro (2009 US Open) have also written their names on the Grand Slam roll of champions.
Both Gaudio and Safin are finished with the game and del Potro's progress has been curtailed by a serious wrist injury which kept him out of action for all of 2010.
World number four Andy Murray has reached three Grand Slam finals but has been defeated in straight sets in all of them -- at the hands of Djokovic in Australia this year and Federer twice, at the 2010 Australian Open and the 2008 US Open.
The feeling persists that Murray has the tools to win a Grand Slam, but that the Scot has the misfortune to be playing at the wrong time.
"It's a very tough era I think in tennis," said Murray after losing his Wimbledon semi-final to Nadal.
"Tennis right at the top of the game is exceptional. So not only to get level with those guys, but to push past them, you need to work harder than them. That's what I need to try to do.
"I'll just have to work harder than I ever did before. Try and improve my game and get stronger. Be more professional."
Of the other top 10, only Robin Soderling, Tomas Berdych and Andy Roddick know what it's like to appear in a Grand Slam final.
Soderling lost the 2009 and 2010 French Open finals to Federer and Nadal respectively, while Berdych was defeated in straight sets by Nadal in the 2010 Wimbledon final.
Roddick has lost three Wimbledon finals in 2004, 2005 and 2009, all to Federer.
However, he can boast one major title when he clinched the 2003 US Open.
Djokovic and Nadal are threatening to pull away at the top of the rankings with the Serb going to 13,285 points on Monday and Nadal on 11,270.
Federer, without a Grand Slam since winning his 16th at the 2010 Australian Open, is 2,000 points further back from Nadal following his quarter-final Wimbledon exit.
But that is still well over 2,000 ahead of Murray.
"Is it easy for anybody at the moment? I don't know. I don't think so," said Federer.
"I think it's pretty tough for anybody right now to win Grand Slams. But I think I definitely can, yes. I wouldn't be here if it wasn't the case."