MUNICH, Germany, Aug 22, 2010 (AFP) - Rebel Argentine defender Martin Demichelis can leave Bayern Munich if he wants to, coach Louis van Gaal said Sunday.
The 29-year-old refused to attend Friday's 2-1 win over Wolfsburg, the opening game of the new Bundesliga season, after finding out he had lost his place in the centre of Bayern's defence.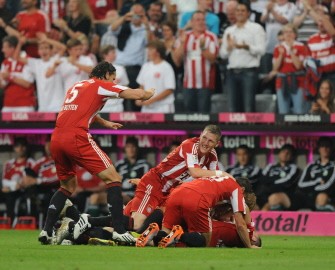 Bayer Munich players celebrate during the German first division Bundesliga football match between FC Bayern Munich and VfL Wolfsburg in the stadium in Munich, southern Germany, August 20, 2010. Bayern Munich won the match 2-1. AFP
Van Gaal opted to select Belgium's Daniel van Buyten and Germany's Holger Badstuber and the Argentinian Demichelis refused to take his place on the bench.
"He can go if he wants to, it would be no problem for me," said Dutchman van Gaal.
"We still have Maximilian Haas (the captain of Bayern's reserves)."
Demichelis trained with the reserves on Saturday, but after saying he wanted a transfer out of Munich on Friday, he seems to have calmed down.
"The situation was planned," he told Bild on Sunday.
"The coach and I had a good conversation."
But in Argentinian newspaper Ole, he was quoted as saying he "was in negotiations with another club", and could be transfered this week before the window closes on August 31.
"I am now trying to investigate everything because I will not stand there like a rebellious child," he was quoted as saying.
Demichelis' behaviour put a damper on Bayern's opening win of the season as Bastian Schweinsteiger's injury-time winner gave the defending champions three points.
Captain Mark van Bommel, his deputy Philipp Lahm and chairman Karl-Heinz Rummenigge all had to face questions about Demichelis.
Dutchman van Bommel had to intervene when the Argentinian refused to switch to the midfield in March 2008 at the request of previous coach Ottmar Hitzfeld.
Demichelis said Friday he wants to begin the process of leaving Bayern as quickly as possible.
"The truth is that a cycle is ending and it's better for both sides if we go separate ways," he told Bild.
"The first negotiations between myself, my agent and Bayern have already taken place."
But on Saturday he said he would remain at Bayern and fight for a regular place, if it was necessary.
Rummenigge has said he does not think Demichelis will leave Bayern before the winter break in January.