LONDON, Sept 11, 2010 (AFP) - Tottenham striker Jermain Defoe has vowed to return to action within two months after seeing his flying start to the season derailed by injury.
The 27-year-old told Saturday's Daily Mirror he aims to shave four weeks off the estimated three months he is expected to spend on the sidelines while recovering from surgery to repair torn ankle ligaments.
Defoe, who scored his first hat-trick for England this month after helping Spurs qualify for the Champions League group stages, hopes to continue his habit of coming back from injury quicker than expected.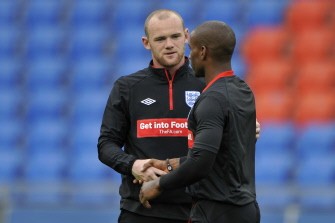 England's striker Wayne Rooney (L) shakes hands with forward Jermain Defoe during a training session on September 6, 2010 at the St Jakob Stadium in Basel on the eve of his Euro 2012 group G qualifying football match vs Switzerland. AFP
"When I did my metatarsal a couple of years ago, they said I'd be back after 10 weeks and I was back after six," he told the Mirror.
"People were joking that I must have some special blood and that I was not normal because I'd healed really quick.
"Obviously I want to take my time with this because its ligaments and the ones that I have done take a long time to heal. But hopefully I could be back in about eight weeks."
Defoe meanwhile is remaining philosophical after seeing his promising early season form curtailed by injury, and says Spurs will be more than capable of progressing to the Champions League knockout rounds in his absence.
"It's amazing how one minute you can be on a high, having scored my first hat-trick for England, reaching the Champions League group stages, then have your whole world come crashing down," he said.
"But everything happens for a reason and I am part of a fantastic club and a fantastic squad. The boys are quality players who are more than capable to getting through to the knockout stages."