LONDON, July 3, 2011 (AFP) - Maria Sharapova believes her run to a first Wimbledon final in seven years is firm proof that the injury-plagued years which threatened to derail her glittering career are now a thing of the past.
Sharapova slumped to a 6-3, 6-4 defeat to an inspired Petra Kvitova in Saturday's title match, but the 24-year-old Russian insists that she has done enough to convince the doubters that she is still a Grand Slam contender.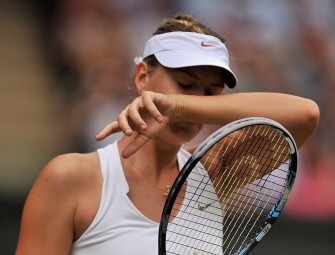 AFP - Sharapova gestures as she plays against Czech player Petra Kvitova in the Women's Final on July 2, 2011.
It's a confidence that she would not have had in 2009 when she missed almost a year of action because of a shoulder injury.
"It's a big step considering that my results here in the last few years haven't been that good," said Sharapova, who had captured three Grand Slam titles before the shoulder injury stalled her career.
She had also endured a poor run at Wimbledon, where she made her breakthrough as a precocious 17-year-old in 2004, failing to get beyond the fourth round between 2007 and 2010.
"It's a big step because my game is improving, and it's a big step because it gives me a tremendous amount of confidence going forward. We still have many tournaments in this year and the next and the following."
Meanwhile, Sharapova believes Kvitova will capture more Grand Slam titles, even in the teeth of fierce competition from big-hitters like the Williams sisters and Kim Clijsters.
Kvitova became just the third Czech woman to win Wimbledon after nine-time champion Martina Navratilova and Jana Novotna when she upset the odds on Saturday.
"She's a Grand Slam champion. She has a tremendous amount of potential to go even further and achieve many great things. If she keeps playing like that and keeps her level up, she has a great game for it," said Sharapova.
Serena and Venus Williams both made early exits at Wimbledon after lengthy lay-offs while Clijsters skipped the tournament through injury.
All three are expected, however, to be serious contenders once the US Open swings around in August.
"She has a very powerful game, so it's not unexpected. When she uses that, that's her strength. That's how she wins matches, when she goes for her shots, and they're very flat."
Sharapova also has no doubts that Kvitova is probably a better player than the current crop of young stars inside the top 10, such as current world number one Caroline Wozniacki and Wimbledon semi-finalist Victoria Azarenka.
"I think she's a much more powerful hitter, she has bigger strokes, and I would say probably a better serve," said Sharapova.
Kvitova, playing in her first Grand Slam final, never allowed Sharapova to settle and broke the Russian five times.
The Czech girl, who made the semi-finals in 2010, was broken three times herself but she played freely, making the most of being the only left-handed player in the top 20.
Sharapova admitted that facing a left-handed player posed particular challenges.
"She used that to her advantage a lot. There are a lot more righties on the tour than lefties," said the Russian.
"She was hitting really powerful and hitting winners from all over the court. She made a defensive shot into an offensive one. I think she was just more aggressive, hit deeper and harder, and got the advantage in the points.
"In all, she performed incredible. Sometimes when you don't know what to expect and you don't know how you're going to feel, sometimes you play your best because you have that feeling of nothing to lose. She went for it."