LONDON, April 25, 2010 (AFP) - Stoke City's Danish international goalkeeper Thomas Sorensen could miss the World Cup after dislocating his elbow during his team's 7-0 Premier League mauling at Chelsea on Sunday.
Sorensen suffered the injury when he collided with Salomon Kalou as the Chelsea player slotted home the second goal of a hat-trick at Stamford Bridge.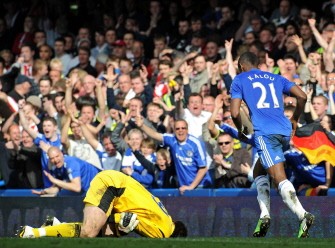 Stoke City's Danish goalkeeper Thomas Sorensen (L) lies injured after Chelsea's Ivorian striker Salomon Kalou celebrates scoring his second goal (R) during the English Premier League football match between Chelsea and Stoke City at Stamford Bridge in London on April 25, 2010. AFP PHOTO
"He has definitely dislocated his elbow," said Stoke manager Tony Pulis.
"We are hoping they can just pop it back in without him needing an operation. If he needs an operation he will be struggling for the World Cup."
Sorensen was stretchered off and replaced by Asmir Begovic after the 31st-minute collision.
Denmark finished top of their World Cup qualifying group, ahead of Portugal and Sweden, with just one defeat in 10 matches.
They have been drawn in Group E in South Africa, alongside the Netherlands, Japan and Cameroon, with their opening game being against the Dutch on June 14.