LIVERPOOL (AFP) – Kenny Dalglish set his sights on winning a place in Europe after John Pantsil's own goal gave Liverpool a 1-0 win over Fulham which continued their revival under the Anfield legend.
Dalglish was able to celebrate a second successive victory following Saturday's 3-0 win at Wolves thanks to the blunder by Pantsil in the second half at Anfield.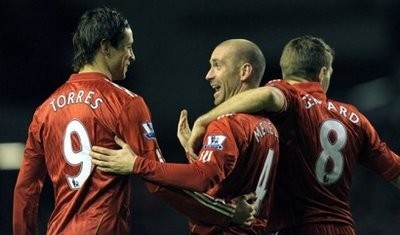 AFP - Liverpool players celebrate after Fulham's defender John Pantsil (not in picture) scored an own goal
Wednesday's result lifted Liverpool up to seventh in the Premier League and gave the Reds their first back-to-back victories since beating Bolton and Chelsea almost three months ago.
On another day, Fulham could easily have won as Mark Hughes?s side squandered several glorious chances and left Merseyside wondering how they had not managed to earn even a point.
But Dalglish is confident Liverpool, who are nine points behind fourth placed Chelsea, can climb higher and challenge for a Europa League place or possibly even a Champions League spot.
"I think we are better than seventh," he said. "We will not get carried away - we want to be further up there than that. We want to win more games and we will try and do that.
"We are delighted to be up to seventh in the Premiership because we have been through four of five hard games, so the lads can be very happy."
Liverpool had an early Fernando Torres goal incorrectly ruled out for offside and looked the better side in the first half but they failed to make the most of their possession.
However, they made the most of Pantsil's error shortly after the break when he tried to clear off his own goal line but sliced into his own net.
Liverpool were expected to then dominate but the opposite happened as Fulham looked the more offensive and disciplined side.
Brede Hangeland's header was cleared off the line by the impressive Raul Meireles and Mousa Dembele missed a glorious late opportunity, to go with the sitter he also squandered in the first half.
"I think to be perfectly honest Fulham will be feeling hard done by," Dalglish said.
"They will be thinking they deserve something from the game but there's been many games when we thought we were worth something as well.
"Fulham are very well organised and passed it about well but we got away with it. We are delighted with the three points and the commitment and we will be ok.
"They showed great determination and effort not to give up. It's great credit to them. They have a week off now and a break and that sort of victory has been a long time coming and because we worked hard we got the slice of fortune.
"I'm delighted with the attitude and commitment and the harder you work the luckier we get."
Hughes admitted afterwards that he was at a loss to explain how his side had lost.
Fulham have very real relegation worries as they sit just four points off the bottom three in 15th place, but if they can produce performances like this one they should have little to worry about.
Hughes added: "I have been involved with many teams as a player and manager and come here and been totally dominated and were lucky to get anything.
"But this was the total opposite. We came here and really took the game to Liverpool and not to get anything out of it is very disappointing because we certainly deserved something.
"Apart from one five to ten minute spell after half time when we invited them on to us and they got the goal from our consecutive errors, I thought we were by far the dominant team.
"But we didn't make that dominance count and that pretty much sums it up.
"This doesn't dent our confidence because we are playing well. Everyone can see we are an accomplished side and will be even stronger next year."