SYDNEY, July 25, 2011 (AFP) - Cadel Evans' historic Tour de France win was hailed Monday as one of Australia's finest ever sporting achievements, ranked alongside Rod Laver's tennis exploits and their America's Cup yachting triumph.
The 34-year-old fulfilled his lifelong quest by securing the title, 30 years after pioneering compatriot Phil Anderson paved the way for dozens of young Australians by becoming the first non-European to pull on the yellow jersey.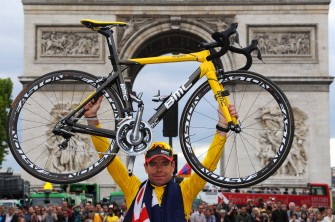 AFP - Yellow jersey of overall leader, Cadel Evans, lifts his bicycle in front of the Arc de Triomphe during the parade on the famous Champs-Elysees avenue in Paris after he won the 2011 Tour de France cycling race on July 24, 2011
"What can I say? I've been dreaming of winning the Tour de France for the past 20 years, ever since I was a 14-year-old," he said, having finished runner-up twice before, in 2007 and 2008.
All the country's major newspapers carried his victory on their front pages, with some comparing the enormity of his feat to Australia's 1983 America's Cup shock, which ended the New York Yacht Club's 132-year winning streak.
The Sydney Morning Herald celebrated him conquering "one of Australian sport's last frontiers", with its cycling correspondent Rupert Guinness, who has covered the Tour since 1987, calling it a huge achievement.
"To watch Evans in a near-perfect tour has been an absolute pleasure. He didn't miss a beat for the entire three weeks," he said.
The Australian broadsheet compared Evans to other Australian cycling icons such as Anderson, as well as Stuart O'Grady and Robbie McEwan, but said he was "undoubtably the greatest of them all".
Debate over where his win sits among Australian sporting achievements was a theme taken up by Sydney's Daily Telegraph, which ranked it above the America's Cup upset.
But it considered the cycling triumph to be outranked by the feats of Laver -- who won all four of tennis' Grand Slams in the same year, twice, and was the world number one player for seven consecutive years from 1964 to 1970.
When Australia famously clinched the America's Cup 28 years ago, then prime minister Bob Hawke declared that "any boss who sacks a worker for not turning up today is a bum".
And growing legions of cycling fans, encouraged by Evans' wife Chiara Passerini, urged a public holiday Monday in his honour.
But Prime Minister Julia Gillard, who called to congratulate the country's new hero, ruled it out.
"I had the opportunity to speak and to personally offer my congratulations. I believe I disturbed him while he was trying to get a nice, hot bath," she said, adding that they joked about his impact on the economy.
"I suggested that he wasn't doing much good for national productivity because everyone was coming to work bleary-eyed," she said.
"He suggested that it'd all be all right in the end because people would feel so full of morale that they'd be cantering into work and working harder.
"So I'm not in a position to announce a public holiday, but I am in a position to share Cadel's view that ultimately we'll be more enthused about our daily tasks because we're celebrating his victory."
While a public holiday is not on the cards, Evans could have a bridge named after him at Barwon Heads in Victoria state, where he lives, while there are suggestions that a new cycling event could be created in his name.
Cycling Australia boss Graham Fredericks said that Evans' achievement would consolidate Australia's status as a major player in world cycling.
"It's certainly a tremendous fillip for our sport, it's the biggest thing that has happened in cycling in this country I would say, without a doubt," he said.
"If we weren't there, we are now. We are a major player and we are here to tell the Europeans and North Americans that Australia is here to take cycling seriously."