CORDOBA, Argentina, July 13, 2011 (AFP) - Brazil pulled a big performance out on Wednesday to advance to the Copa America quarter-finals as Group B winners after beating Ecuador 4-2 in an entertaining contest at Cordoba.
A brace each from Alexander Pato on 28 and 61 minutes and Santos starlet Neymar on 49 saw the auriverde just win the group on goal difference from Venezuela, who earlier shared a 3-3 draw with Paraguay.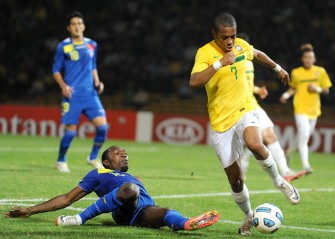 AFP - Ecuadorean defender Walter Ayovi (L) tries to mark Brazilian forward Robinho during the Brazil vs. Ecuador game
Ecuador tried valiently and Felipe Caicedo also netted twice after 37 and 59 minutes but in the end they ran out of steam as Brazil proved too big a hurdle.
Pato headed in the opener after 28 minutes. But Caicedo levelled with a low left-foot shot which squirmed under keeper Julio Cesar eight minutes before the break.
At that point Brazil, who will meet the Paraguayans in their quarter-final at La Plata next Sunday, were uncomfortably close to the tournament exit but they rallied strongly in the second half with Neymar on fire as was roving wingback Maicon.
Ganso fed Neymar for 2-1 just four minutes after the restart but Ecuador again clawed their way back as Caicedo drove home confidently.
Again Brazil had to find another gear and they did so as Neymar shot, the Ecuadorean keeper Marcelo Elizaga fumbled and Pato bundled in on the hour.
The it was all over as Maicon hared down the right and Neymar clipped in from four yards out with 18 minutes remaining.