MADRID, Sept 13, 2010 (AFP) - Real Madrid coach Jose Mourinho insists he is not fazed by the jeers from the demanding Santiago Bernabeu crowd who were far from impressed by a workmanlike 1-0 win over Osasuna.
The Portuguese coach has been brought in to deliver trophies with stylish football that Real fans demand and tasted his first win at the helm against Osasuna thanks to Ricardo Carvalho's goal early in the second half.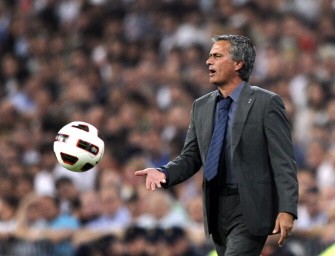 Jose Mourinho reacts during a Spanish league football match between Real Madrid and Osasuna on September 11, 2010. AFP
However, it was far from a vintage display and the home fans voiced their disapproval.
"The public can jeer if they want and I can respect it," said Mourinho.
"I work for the total satisfaction of the public and they pay me to work and not to criticise the fans. I will never say anything against the fans of Real Madrid.
"Is it only at the Bernabeu where they demand more? I don't know any supporters of any big clubs that settle for less. It is nothing new for me."
Real supporters jeered the team off after a flat first half display failed to produce a single goal and although the team was better in the second half it could not be labelled an exciting performance.
One goal in the opening two league matches is low for last season's top-scorers Real. But Mourinho pointed out that his side have tightened up defensively having not conceded a goal with back-to-back clean sheets.
"It was a difficult game (against Osasuna) but we didn't have any problems and (Iker) Casillas didn't have anything difficult to do," explained Mourinho.
"Perhaps it wasn't a great game and there wasn't a lot of quality although we were much better in the second half.
"However, two games and two clean sheets is important. We controlled the game easily and I am sure it would have been more relaxing if the second goal had come.
"I am happy with the points and the control we had on the match. I understand the public want more and I want more too and so do the players.
"However, as a constructor of a team this game is important and I see a lot of positives."
One positive is Real are a point ahead of champions and arch-rivals Barcelona who fell to a shock 2-0 defeat against promoted Hercules.
Another positive was the performance of German international midfielder Mesut Ozil in his first league start for Real.
The 21-year-old, a 15 million euro signing from Werder Bremen, was Madrid's standout performer and was given a standing ovation when he was taken off in the final minutes.
"He (Ozil) played with character and it is important the new signings have a rapport with the Bernabeu," said Mourinho. "He thinks quickly and plays it simple and that is an art."
Another boost for Mourinho was the return of Cristiano Ronaldo who made a remarkable recovery from an ankle injury to start and completed the entire 90 minutes.
"Cristiano is perfect physically and the ankle is fine," said the former Inter Milan boss.
"I am happy with the effort he put in for the team after a difficult fortnight in which he couldn't train with the ball."
Ronaldo and Real's next task is their Champions League group opener against Ajax on Wednesday as they target a 10th European Cup with their last Champions League success back in 2002.