Football fields are full of tricks. Hang Day Stadium last Sunday afternoon was no exception. However, "man proposes, god disposes" and so the danger of a relegation play-off still looms large over Hoa Phat Ha Noi.
Rarely do you see flowers at Hang Day Stadium, yet last Sunday afternoon was a different story. The leaders and sponsors of Hoa Phat Hanoi, and the leaders of the visiting team, Song Lam Nghe An, shook hands and …presented flowers to one another.
Numerous excuses can be created for such an act: it was the last home game for Hoa Phat Hanoi; the leaders of Hoa Phat Ha Noi wanted to show their support for their players; or the leaders of the visiting team wanted to show their sportsmanship.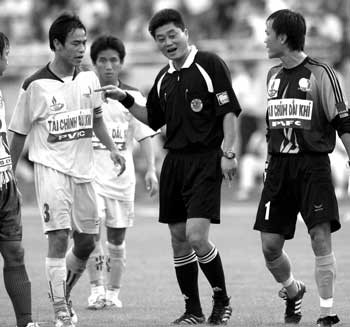 Song Lam Nghe An men react when Hoa Phat Ha Noi are given a penalty kick

 
Whatever the reason, the exchange delayed the game at Hang Day Stadium about ten minutes, allowing  the leaders of Hoa Phat Ha Noi to keep track of what was happening at the other six stadiums.
Surprisingly, the V-League organizers could find no reason to give a fine to the organizers of Hang Day Stadium for stealing a few minutes for the flower-giving ceremony.
Additionally, the president of the referees committee Mr. Nguyen Van Mui declared before the game: "An excellent referee for an important game!"  Does this mean that referee Vu Bao Linh is better than other referees?
In the final rounds of the V-League 2005-2006, the poorly performing Quang Ninh referee was suspended then demoted to the First Division. Replacement referee Vu Bao Linh did well for most of the 2006-2007 football season, and thus was given the opportunity to control the big game.
Whether there was something wrong in the referee's actions can be debated later. However, Song Lam Nghe An coach, Mr. Thinh, remarked that there must have been! No matter what was done under the table by the organizers, the home team Hoa Phat Ha Noi failed to get 3 points even though they were given a controversial penalty kick in extra time. What a destiny!
Now Hoa Phat Ha Noi has no choice but to compete against fellow Ha Noi team, Ha Noi ACB, to avoid the play-off game for the third-placed First Division team. It is obvious that God does not support cheaters!