The 25th round of the V-League ended yesterday with only one notable result in an otherwise boring weekend: a win by Dong Tam Long An at Nam Dinh's Thien Truong Stadium to cement the Tilers as runners-up in Vietnam's top football division this year.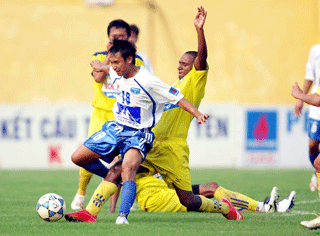 Vu Hong Viet (White) of Hoa Phat Ha Noi fails to break through the defense of Song Lam Nghe An

Hanoi

's legions of fans are the most vexed as their two V-League teams will probably have to fight it with the third-placed First Division side to avoid relegation.

A two-all draw with Song Lam Nghe An at Hang Day Stadium put the visiting Hoa Phat Hanoi in this unenviable position, and it would have been so different had Hoa Phat been successful with a spot penalty in extra time.
A third goal would have given them 32 points and a definite place in next season's V-League. Song Lam Nghe An would have had 31 points, also enough, and Hanoi ACB would have been alone in trying to avoid relegation.
Even if they beat Dong Thap in the final round next weekend, Hanoi ACB will have 31 points, like Song Lam Nghe An (assuming they win in the final round), but the latter won their head-to-head matches and so will finish at least a rung above Hanoi ACB anyway.

The danger of a relegation play-off looms large over Hoa Phat, who need one more point from next weekend to stay in the top league. This is because Hanoi ACB will play at home against bottom dwellers Dong Thap next weekend, and getting three more points seems well within their reach, whereas Hoa Phat must travel to Pleiku and face the thorny Hoang Anh Gia Lai.

The loss to Hoang Anh Gia Lai at Pleiku Stadium last weekend was not the end for Hanoi ACB. They still have one more week of hope ahead.
The results at Hang Day and Pleiku stadiums together with the score at Thien Truong Stadium gave the 25th round a little life but not much to discuss. In addition to the struggle of the two teams from Hanoi to avoid the relegation play-offs is the fight for third place, for which four teams are still in contention.
Yesterday also saw meaningless matches in Nha Trang and Binh Duong. The central region derby between Binh Dinh and Da Nang was just as unexciting. Even what was supposed to be an intense battle between Thanh Hoa and Southern Steel Saigon Port ended lamely.

The race that matters most is for the Golden Shoe for the season's top scorer. At the moment, suspended Almeida of Da Nang has 16 goals, two ahead of Elmildo of Southern Steel Saigon Port, who scored twice on the weekend and is one ahead of Tshamala of Dong Tam Long An with 13 goals.